Chicago Cubs News
Chicago Cubs: An emotional day watching Kris Bryant's return to Wrigley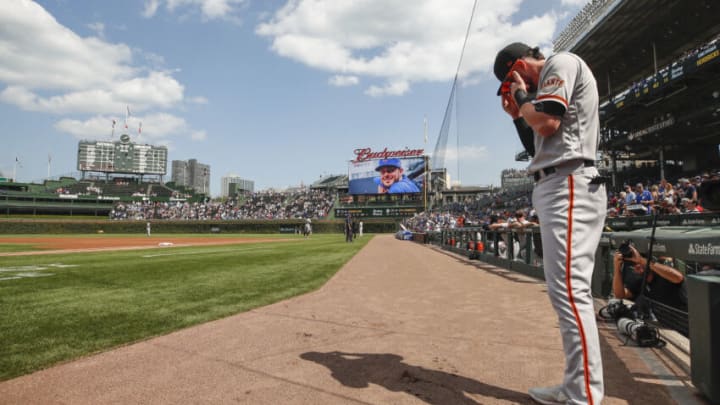 Mandatory Credit: Kamil Krzaczynski-USA TODAY Sports /
(Photo by Justin Casterline/Getty Images) /
Chicago Cubs: "Today, we're all kind of Giants fans."
After I saw Willson Contreras, the last of the big names left, walked into the stadium, I decided it was time for my pre-game activities since I wanted to be in my seat early. I knew a tribute of some sort was coming. I decided to head back down Clark Street to see my pal Laila at Vines for an Old Style.
I stopped in the bathroom and saw a guy vigorously washing his plain white polo. He looked at me and said "Coffee. What a start to the day." I apologized for laughing and told him that I hope his day only goes up from here. He told me how he might need to go Sports World to grab a Cubs shirt, but feels weird because he's actually a Giants fan. I again laughed and told him "I think you'll be okay. We're all kind of Giants fans today."
At this point, bars were busy and Wrigleyville had its normal buzz in the air. I sat by the window at Vines to do some people watching of the street. It seemed normal, but everyone had the same idea to get into the stadium early to watch a tribute to our boy.
Even though attendance would definitely be down with a less competitive product on the field, the numbers were boosted on Friday because our MVP was coming home. I paid and once again walked towards the Marquee to enter the stadium. At this point, I had to have walked at least six miles Friday morning, right?