3 reasons the Chicago Cubs won't try to sign Freddie Freeman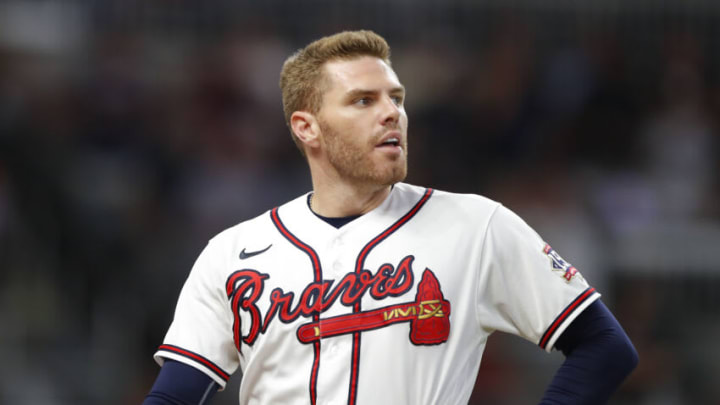 (Photo by Todd Kirkland/Getty Images) /
(Photo by G Fiume/Getty Images) /
I want to start this piece off by saying even though there's a new report out there that makes it seem likely Freddie Freeman will hit free agency at year's end rather than agree to an extension with the Braves, it still feels unlikely he won't be playing in Atlanta in 2022 and beyond. But then again, I never thought Anthony Rizzo would play for any other team but the Chicago Cubs – and we all know how that went.
There are a ton of different aspects that come to play when thinking about the Cubs making a hypothetical run at Freeman this winter. But first, let's circle back to the rumor regarding the longtime Braves first baseman and the 'gap' that reportedly exists in ongoing talks.
While the front half of that tweet from Jon Heyman centers around that gap and the 'surprisingly strong' chance he hits free agency, the back half carries a very different tone. One that makes you, again, think Freeman winds up spending the rest of his career with the Braves, the team that drafted him way back in the second round of the 2007 draft.
Once again, Freeman is doing what he does on an almost annual basis – doing just about everything in an above-average fashion. He's batting .292/.388/.498 on the year and has done an excellent job in the on-base department, drawing 75 walks to just 93 strikeouts in a league-leading 598 plate appearances.
For obvious reasons, you'd love to have a guy like this in the Cubs clubhouse. Aside from his longstanding ties to Atlanta, the fact Chicago wouldn't pony up money for Rizzo and, in fact, low-balled him in talks makes it seem highly unlikely they cough up the cash for Freeman, who turns 32 this weekend and no doubt wants a lengthy extension.
You also have to consider the emergence of Frank Schwindel, the reigning National League Player of the Month, as well as the fact that a potential reunion with Rizzo will undoubtedly be more cost-effective, although there is debate over whether or not the Cubs would even be open to that.