Chicago Cubs: For Boog Sciambi, Lou Gehrig Day is personal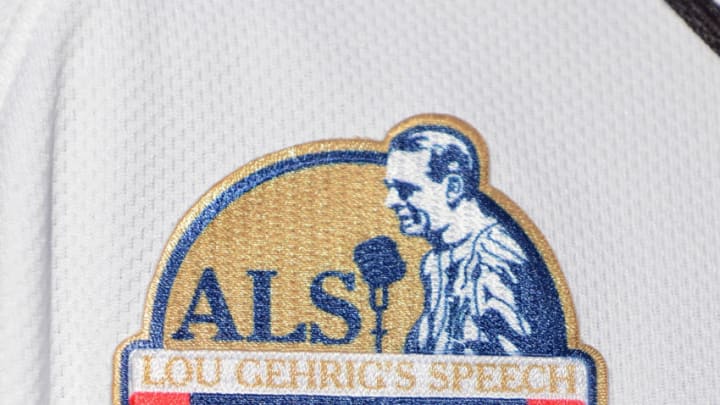 (Photo by Mark Cunningham/MLB Photos via Getty Images) /
There weren't a lot of moves the Chicago Cubs nailed last offseason, but the one they did was the hiring of Jon 'Boog' Sciambi as the new play-by-play man at Marquee Network.
Not only is he a phenomenal presence in the booth, but he regularly uses his position and influence in the game to make the world a better place. When Major League Baseball comes together on Wednesday for the inaugural Lou Gehrig Day, it will mean something more to Sciambi, who watched a good friend lose his battle with ALS over a decade ago.
""Awareness is really the first thing. It really is," Sciambi told MLB.com. "If some 7-year-old kid sees the patch and says, 'Dad, what's ALS?' That's a win. It leads to explaining, because we need more people to know about it, what it is. To me, it's all about awareness.""
Chicago Cubs, MLB come together to fight ALS, honor Lou Gehrig
Every baseball fan knows who Lou Gehrig is. The Yankees legend won six World Series, won a pair of AL MVPs and made seven All-Star teams during his Hall of Fame career. The waning years of that illustrious career, though, was heartbreaking. After battling through various physical ailments during 1938, he was clearly not the same player he'd been his entire career.
The next year, he was diagnosed with amyotrophic lateral sclerosis (ALS) on his 36th birthday. Two days later, with tens of thousands of fans packed into Yankees Stadium, Gehrig delivered a speech that lives on in our memories, even to this day.
Less than two years later, the debilitating disease claimed Gehrig's life. Since then, especially in the last 20 years, various charities and organizations have dedicated themselves to fighting ALS. One such organization, Project Main St., was co-founded by Sciambi and a group of friends back in 2007.
Everyone talks about ending terrible diseases, funding research and helping families impacted – but when you personally know someone and have been affected by something like ALS, the gravity of seeing MLB come together in an effort to truly make a mark in the fight, it's something you definitely don't take for granted.
""There's a part of it," Sciambi said, "where you feel like you're doing something to honor your friend, you know? It gives us a chance to think about him and smile. And to just keep him in your thoughts.""
You can learn more about Project Main St. here. Today, let's all step up together and work to make ALS a thing of the past.