Cubs: Joc Pederson celebrates his first homer with… a waffle maker?
The first gut punch of the season. Well, we knew it was coming sooner or later – but it didn't make watching Lorenzo Cain and Christian Yelich singlehandedly take down the Cubs on Wednesday any more palatable.
Milwaukee starter Brandon Woodruff took a no-hit bid that was insanely efficient into the seventh before Ian Happ got the Cubs their first single in THIRTY innings, dating back to the first inning on Sunday. While that let us all breathe a sigh of relief, it was fellow outfielder Joc Pederson who had us all running through walls a short while later.
Pederson, who looked ready to pop 50 homers this year back in spring training, has been pretty not great since the regular season kicked off. He entered his eighth-inning AB 0-for-15. Then, he flipped the script and fired up his teammates with a towering blast to right.
That shot, which came off reigning NL Rookie of the Year Devin Williams, tied the game at one (and for what it's worth, matched the total number of home runs allowed all season last year by the Brewers' shutdown reliever).
After rounding the bases, though, Pederson was treated to a waffle maker by Happ as he returned to the dugout.
After the game, Pederson told Marquee Sports Network that he'd texted Happ prior to the game to bring a waffle maker because the offense needed to get things going and guys needed to 'waffle' some balls.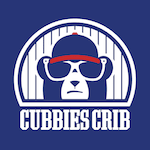 Well, it didn't quite get the job done, but at least it helped Pederson get off the schneid before the team hit the road and head to Pittsburgh for its first road trip of the campaign. As for the waffle marker, I'm more of a pancakes guy. But if waffles = round-trippers from the Cubs offense, that could change pretty quickly.