Cubs Roster
Cubs: Ranking the top candidates to lead the team in home runs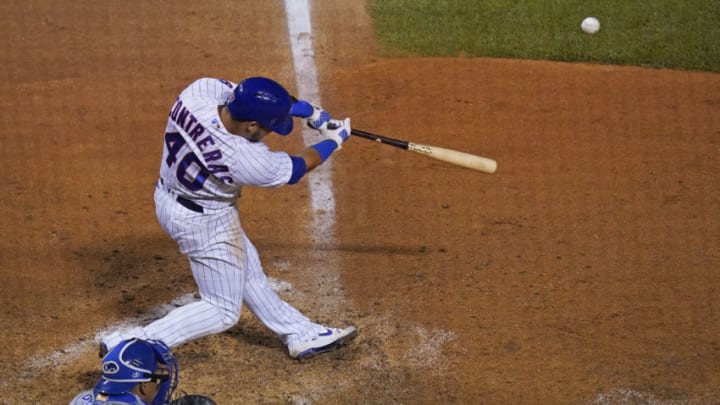 (Photo by Nuccio DiNuzzo/Getty Images) /
(Photo by Jonathan Daniel/Getty Images) /
Cubs: These are the projected big boppers in the lineup
Joc Pederson:
Right now the home run projections mostly range between low and high-20s for Pederson. It could depend on just how much playing time he gets. Right now he is crushing it in the Cactus League and looks to be an everyday-type player. Last season despite the rough numbers in the regular season, Pederson was in the top 4% in the league in exit velocity. In 2019 he eclipsed the 30 home run mark for the first time in his career (36).
ZiPS has him at 21 home runs, Steamer at 29 and THE BAT at 28. Most projections have him closer to 30 home runs outside of ZiPS, who has him lower in around the same number of games (he is projected around 124-130 games by each of these outlets). Say he plays about 130 games, there is good reason to believe he can hit at least 25.
He likely will not lead the team in home runs since other power hitters will get more at bats, but who knows, if he continues to swing like he has been this spring he can put up some big numbers this year.
Anthony Rizzo:
Anyone who follows the Cubs pretty much knows what Rizzo is going to give offensively in a normal season. His slash and home run production every year is incredibly consistent. From 2014-2017 he hit 32 home runs in three of those four seasons with him hitting 31 in 2015. Despite a small power drop in 2018 (25 home runs) he hit 27 in 146 games in 2019. Long story short, he is for the most part expected to produce home run power as normal in 2021. Rizzo is one of, if not the last person to worry about production by the time the season is a wrap.
ZiPS has him at 24 home runs, Steamer at 30 and THE BAT at 27. I would take the over on 24 and say 30 seems like the reasonable mark. Rizzo has a great power stroke, which is honestly capable of 40+ home run power, but he will sacrifice power for contact in many instances to be a more balanced hitter.
Javier Baez:
It is reasonable to think Baez could be the best candidate to lead the team in home runs. Assuming he rebounds from his 2020 struggles and returns to normal, he has easily 30+ home run power. He hit 34 in 2018 and 29 in 2019 where he missed 22 games. His hard hit% those two seasons ranged between 76-81 percentile. His opposite-field power is as good as it gets, allowing him to drive pitches on the outside corner.  Beaz should get the benefit of the doubt for 2021 considering 2020 was an odd year and he was not the only All Star caliber player to struggle mightily.
ZiPS pegs him at 29 home runs, Steamer at 30 and THE BAT at 30. In terms of looking at what numbers these three projections spit out, Baez is the favorite to hit the most home runs in 2021. It does make sense. He is a free swinger with great power who plays every day. Even with the holes in his swing when he barrels the ball he can hit them high and far.
To look at the averages of these projections, here are the "over/under" home run totals we can come up with for each of these players:
Willson Contreras: 17
Kris Bryant: 25
Ian Happ: 26
Joc Pederson: 26
Anthony Rizzo: 27
Javier Baez: 30
All of these guys are capable is hitting over these marks, but it does not necessarily mean they will. Struggles, injury, are both factors. Not to mention the new makeup of the baseball that can kill some of the power. How much that will play in the outcome of home run production remains to be seen.