Cubs have some cost-conscious options for their left field void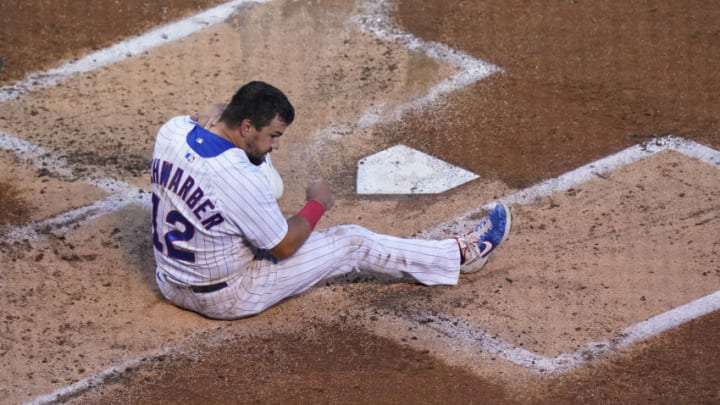 Kyle Schwarber - (Photo by Nuccio DiNuzzo/Getty Images) /
Here are a few options for the Cubs in replacing Kyle Schwarber in left field.
The house cleaning continued this weekend for the Cubs as Kyle Schwarber inked a one year deal for $10 million with the Washington Nationals. Fans all saw this one coming, but the left fielder making it official on Saturday marked a sad day for us all. With our left fielder on the move, the Cubs have a void to fill and we look at a few options to take his place.
Schwarber had a long road before he found himself in left field for this team and he became a fan and city favorite at the end of it all. In six seasons, we watched Schwarber make an improbable return to the 2016 World Series, switch from catcher to left field, slug 38 home runs in 2019 and provide some unforgettable moments for Cubs fans. As he heads to DC to reunite with Dave Martinez, Chicago has a major void to fill in left field.
The free agent market is thin, especially considering the team's desire to cut costs. With that in mind, Jed Hoyer needs to get creative. If Kris Bryant doesn't get traded, this team should consider playing him in left more frequently, David Bote at third, while adding another signing along with Phil Ervin. One option to add to this group that would be feasible is Adam Duvall.
More from Cubs Roster
Schwarber has an OPS of .816 in his career so the Cubs should look for some sort of power. Duvall can provide some pop, as he posted an OPS of .883 and .882 in his last two seasons with the Braves, respectively.  He was also an All-Star with the Reds in 2016. Duvall isn't the sexiest option but is realistic and affordable for this organization.
In a re-tool mode, the Cubs would be able to bring in Duvall on a short-term deal for less than $5 million for year. Duvall would add some power and Ervin can provide an average boost (career .247 average compared to Schwarber's .233) to this outfield.
Another option for this group is Enrique Hernandez. Hernandez would be a great utility addition to this group and allow David Ross to get creative with this lineup. Hernandez is likely on his way out of Los Angeles and has the ability to play second base and outfield, two needs the Cubs have. Hernandez doesn't have the most eye-popping stats, as he's sported a career average of .240 with an OBP of .313 and OPS of .738, but he is versatile and could add value to this group. He signed a one-year deal for $5.9 million with the Dodgers last year so he would also come on a short-term deal at a low cost.
With the inability to spend a lot of money this offseason, the Cubs have to get creative and there isn't an easy solution to left field. The only active outfielders on the roster are Ian Happ, Jason Heyward and Ervin. They won't spend for a similar player to Schwarber like a Joc Pederson and won't add a big name so it's important to set realistic expectations.
Adding Hernandez and/or Duvall would give the Cubs what they need and help them compile a serviceable roster for 2021. There would be upside added to this group and with a weaker division projected for the Central, Cubs fans could have some hope for competition in this upcoming season.