Chicago Cubs: Five reasons the team parted ways with Kyle Schwarber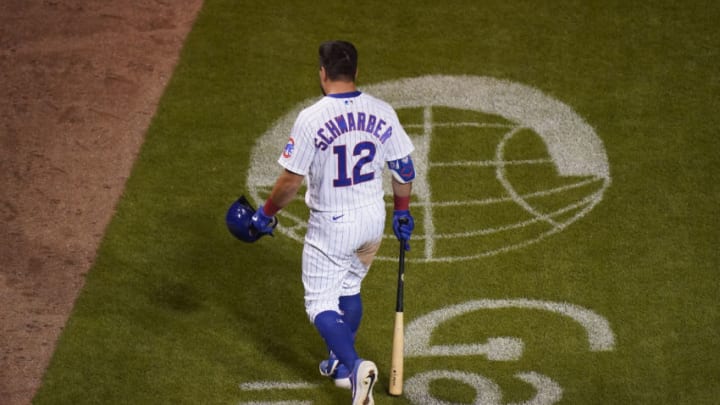 Photo by Nuccio DiNuzzo/Getty Images /
(Photo by Stacy Revere/Getty Images) /
Chicago Cubs: When you're too passive, umps take advantage
There are a few hitters in the game whose eyes are just too good for the umpires. Joey Votto is one. Ben Zobrist was one. Schwarber and Rizzo on the Cubs are probably on that list as well.
You see it time and time again with these guys (who all bat left-handed, although Zo also hit from the right side as well) taking pitches off the outside part of the plate. Whether it's a soft spot, weak spot, or dead spot for umpires I have no idea, but sometimes guys with really good eyes often end up getting the shaft for being too passive and too discerning.
Then again, with two strikes, there are times you have to guard against and spoil the pitch an inch or two outside rather than watch it and subsequently the umpire ringing you up erroneously.
Maybe Schwarber would do better with robot umps, but for now, he has to deal with the good old human kind. Meaning, he's got to be less passive and more aggressive. While I'm not saying he needs to go up there hacking like Javier Baez, there are times where he has been successful ambushing first pitch fastballs the other way or spraying line drives the other way with one or two strikes. Schwarber has so much power than even a half swing has the capacity to leave the park.
That being said, his passiveness led to prolonged slumps and pitchers taking advantage with big strike zones and low swing percentages at times, something the Cubs obviously couldn't stomach any longer.
While I don't personally think these five issues would have led to me non-tendering a guy who was really, really good the last time baseball had a full season, the team is making moves and Schwarber's head was the first to fall under the guillotine.