Cubs Rumors: Buster Olney says designated hitter likely for the NL in 2021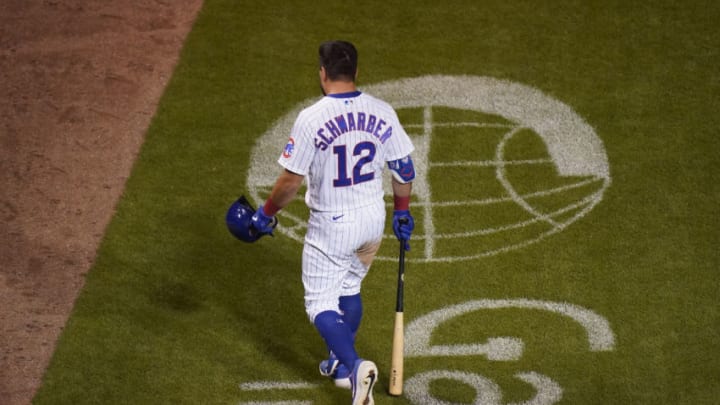 Photo by Nuccio DiNuzzo/Getty Images /
If the designated hitter does, indeed, return in 2021, the Cubs are in good shape.
The National League finally adopted the designated hitter rule for the shortened 2020 season. The results were interesting as seven NL teams finished in the top 10 in terms of DH WAR. According to Buster Olney (subscription required), the DH is likely to stick around in the Senior Circuit for 2021. Knowing that, let's take a look at how that may impact the Cubs and the free agent market.
Chicago adding a designated hitter was nothing to ride home about in 2020. Cubs designated hitters batted just .219 with an OBP of .322 this season. The two-catcher approach was used a lot for DH purposes, and Victor Caratini didn't have a great season to help the addition of this role reach its full potential.
As we move forward into 2021, one name that sticks out as a candidate for a more permanent role as designated hitter is Kyle Schwarber. Schwarber played the role in nine games in 2020 – but, overall, had a rough season batting just .188 with an OPS of .701.
More from Chicago Cubs Rumors
The Cubs have the opportunity to get very creative this offseason and the continuation of the designated hitter role will give them even more flexibility to spice things up. An idea that I would be fond of is trading Caratini, moving Schwarber into a permanent DH role and signing a left fielder who can get on base and make contact. One name that sticks out is Michael Brantley if the price is right, as the current Houston Astro owns the fourth best at-bat-to-strikeout ratio in baseball at 8.4.
The good news for the Cubs is that average-wise, the rest of the NL didn't perform all that well in this role and even the World Series champions were no exception. The Dodgers batted .202 in the DH role with a WAR of -0.2. They show that it's not the end-all-be-all but it's an opportunity to gain a competitive advantage if one can get a solid bat into that position.
If this role sticks around, a name like Nelson Cruz could become one of the more highly sought-out free agents on the market. At age 40, he's shown that he still has a lot in the tank. The best part about that is that he'll more than likely be asking for a one-year-deal which is very enticing for front offices. It will be interesting to see how many teams show the coveted slugger interest this offseason.
The Cubs have a great opportunity to gain an edge if the DH role is still here in 2021. They need a new type of player that, again, can make contact and get on base. I hate to say it but that player has to come from the outside. Make a move, shake things up and bring in a guy who can take this offense to the next level.