Cubs History: Remembering some strange moments at Wrigley Field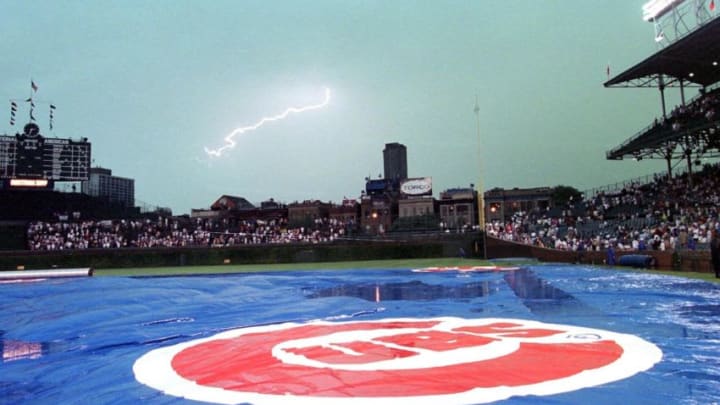 A tarp covers the field as rain and lightening delay the Houston Astros game against the Chicago Cubs at Wrigley Field 24 August in Chicago, IL. Despite the delay the Astros defeated the Cubs Chicago Cubs (Photo by DANIEL LIPPITT/AFP via Getty Images) /
(Photo by Brian Kersey/Getty Images) /
Chicago Cubs have had thousands of games taken place at Wrigley Field, and every now and then, something unusual happens.
Once upon a time, fans were allowed to attend games at Wrigley Field. Those people saw plenty of highs and lows for their beloved Chicago Cubs over the years. Some fans were "lucky" enough to witness some more unusual things happen during games.
Baseball is bound to see some strange stuff considering it is played outside more often than not as it is exposed to the natural elements.
Wrigley Field has had its share of animal interactions, weather changes, and technical malfunctions over the past 100+ years of hosting baseball games. Some moments stand out more than others just considering how out of the blue they happen and how wild things get.
Here is a look at a few strange and wild occurrences to happen at Wrigley Field during Cubs games. The ones on the list have happened within the past 20 years, so plenty of people will likely remember these. Some of you might have even been there to witness this first hand!