Chicago Cubs News: A season of change is coming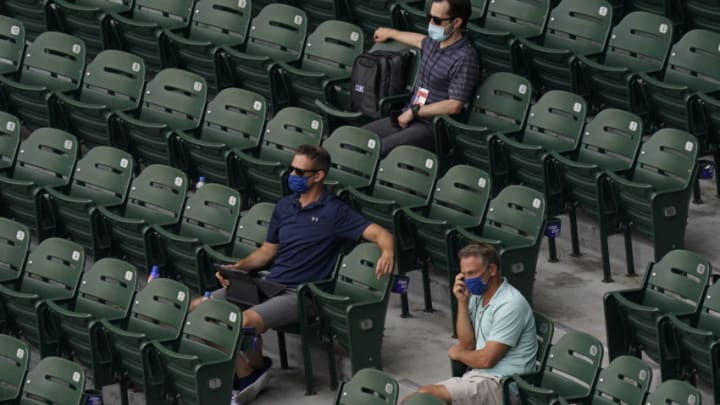 (Photo by Nuccio DiNuzzo/Getty Images) /
Brace yourself. The Chicago Cubs have more change coming.
The Chicago Cubs have more changes coming. Either dealing Kris Bryant or Kyle Schwarber, it's going to happen. Theo Epstein's at least will be part of it until the 2021 season ends, and Jed Hoyer looks like the man for the job. But what will they do until then?
The Cubs chairman Tom Ricketts told Marquee Sports Network the same thing. That Epstein will do the right things for the best interest of the ballclub for his time here. h/t The Athletic (Subscription required)  But what is the 'best interest?' Let's say they play 150 games. Say after 80 games, and they're in last place. What do you do? Do you trade off pieces and save money?
More from Chicago Cubs News
Hoyer has to be part of the plans. He has to. He has been part of it for nine years. But to say they to take him out of it would be ludicrous. Epstein and Hoyer worked together on this. And Hoyer? He purchased a home on the North Side. I'd say they're in a transition mode.
Epstein was not a failure, as David Miniel pointed out. On October 11, 2011, he started from scratch. By 2015, they were a playoff team. In 2016, they won the World Series. Since then, it's been an uphill climb. They haven't won a playoff series in the last three years. The 'open window' was closing–and fast. Still, he won a World Series. He cemented his legacy with the Cubs.
So his 10-year window is closing, and the Cubs will figure out what to do next. Hoyer will have to be GM–and probably President of Baseball Operations–but who knows. Until then, Hoyer will assume his spot as GM for the time being and leave Epstein with PBO for 2021.
So what do they do for '21? I don't know. David Ross and Andy Greene are joined at the hip. The Cubs' Anthony Iapoce needs to go. But again, it's on the players. They need to get something–anything going. Still, Iapoce needs to leave. It's best for the team.
So by 2021, they'll be headed by a new boss. Whether Hoyer gets to be GM or President, or neither? Nobody knows.