Chicago Cubs News: Chicago White Sox series preview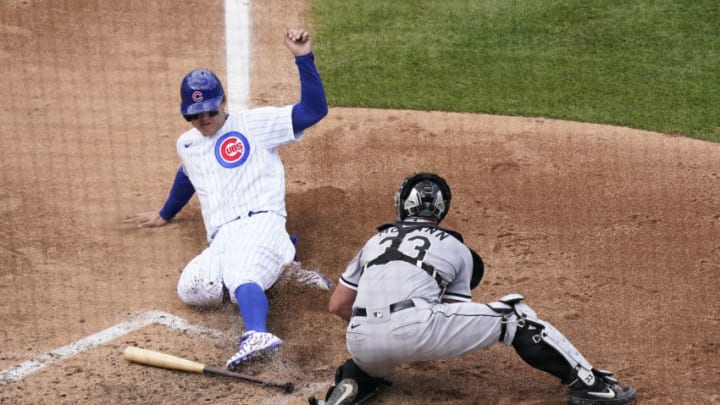 (Photo by Nuccio DiNuzzo/Getty Images) /
(Photo by Justin Berl/Getty Images) /
As they get set to renew their rivalry, Chicago's baseball teams are in desperate need of a spark heading into October.
With three games remaining, both the Chicago Cubs (32-25) and Chicago White Sox (34-23) struggle as they head into their regular-season finale this weekend. The good news is one team's losing streak will have to end.
Let's start with the Cubs, who have lost five of their last six contests after winning five straight games. In their latest slump of the season, the Cubs dropped three of four to the National League's worst team, the Pittsburgh Pirates (18-39).
The Cubs' offense has looked pitiful during this stretch, managing just four runs in their last five losses while getting shutout in two of those games. It's been the same story all season for this ball-club who cannot find a way to drive-in runs: last three games with RISP (0-for-15).
It's one thing to get shut down by excellent starting pitching, but to get dominated by the Pirates? Really? No offense to Trevor Williams (2-8, 6.18 ERA), but for him to hold this offense to one run, just a week before the postseason starts is pathetic for the Cubs.
FanSided 250
Fansided250 Logo
Where do the Cubs rank?
See 2019 Rankings
Still, as frustrating as it is, it happens all the time in baseball. While they couldn't take care of business against the last-place team, Cubs did run into a lot of bad luck in the series. It seemed like the only pitches they managed to square up found Pirates defenders who were in the right spots at the right time.
It's safe to say the Cubs are due for some good fortune, and thankfully their rivals are slumping as they get set to meet.
The White Sox have lost five straight games, including six of seven losses since they clinched their first playoff berth in 12 seasons.
After getting swept in a four-game series by the Cleveland Indians (33-24), the team on the South Side has gone from being the top overall seed in the American League to potentially falling into one of the Wild Card spots.
All four of the games in the Sox-Tribe series were relatively close, but Cleveland had an answer for each time the White Sox would tie the ballgame or take the lead.
The last three losses for the White Sox were decided by one run, with two games ending in walk-off fashion. Those kinds of defeats are tough to come back from for any team.
I'm not going to lie, with the amount of trash-talking that goes on amongst my family and friends who are White Sox fans, nothing would be sweeter than the Cubs adding to their collapse right before October begins.
Still, the Cubs have their issues that need to be figured out, and they're running out of time.