Cubs: Brennen Davis, a two-star athlete who picked baseball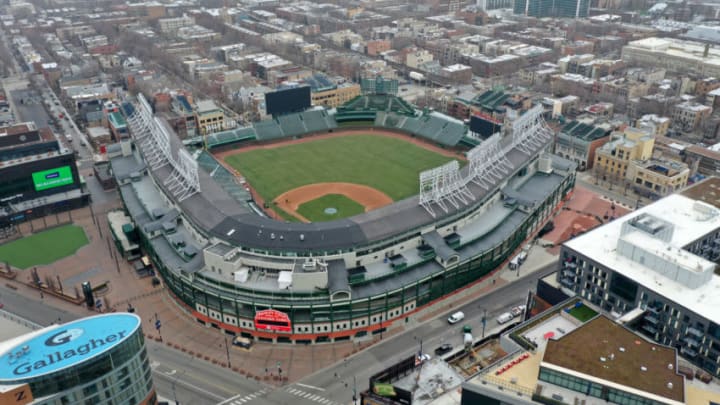 Chicago Cubs (Photo by Scott Olson/Getty Images) /
The Chicago Cubs' Brennen Davis was a two-star athlete who picked baseball over basketball. I'd say it was the right call.
The Chicago Cubs' Brennen Davis. Was it going to be basketball or baseball? After guiding Basha High School (Chandler, AZ) to a 6-A hoops title and getting the 2017 regional defensive player of the year, he hooked up with baseball in the summer and ditched basketball. I'd like to get a regional player of the year–or head up a 6-A championship–but I was the player who averaged five to 10 minutes. Oh, well. I was on the state runner up for Class-C–River Valley Mustangs. Good. No?
He had a hamstring injury, but 2020 was the year that he was going to break out. And the COVID-19 hit and the MiLB season was canceled. So it's 2021, but it's coming. The Cubs had planned on Davis to start in center field in Class-A Myrtle Beach with a chance for promotion to Double-A Tennessee.
When that became out of reach because of the coronavirus, he was added to the 60-man player pool. He won't make his way to Wrigley Field–for now–but he'll be facing stiffer competition that he was down on the farm.
""We want him to see as much live pitching as possible. Almost all of the pitchers we'll have up there are potential Major League depth. Even if it's standing in on pitches during bullpens, then live batting practice and scrimmages, he's going to get the opportunity to stand in versus some very polished professional pitchers, learn to manage at-bats, deal with failure, all normal things he'd get to experience in a normal Minor League season." h/t Jim Callis, MLB.com"
He batted .305/.381/.525, with eight home runs in 50 games. Do you know what that leads to? Cubs Minor League player of the year. Not bad for a guy who has 276 pro appearances at the plate.
He has impressed with his work ethic, as well. Putting on 35 pounds–settling him at 208. He has some long arms (6-foot-4) who add some depth to his right-handed swing. Using the entire field and making adjustments to his stroke has been his forte.
Living in Arizona, he was fortunate to where he can lift weights and hit. Also, playing at South Bend? He hoped he bid adieu to Four Winds Field. But when it was revealed he was part of their taxi squad, he was into it.
""Pitch recognition, definitely," he said. "Routes in the outfield can always be cleaned up, just being the best outfielder I can be. Baserunning, being more aggressive and trusting my instincts. Just continuing to solidify my swing mechanics and not be afraid to take chances."
The 'breakout' may come a little bit later than they hoped. But they're counting on it. If he doesn't have the finger or the hamstring issues? Lookout. He's due.