Chicago Cubs: All teams to hold spring training at home facilities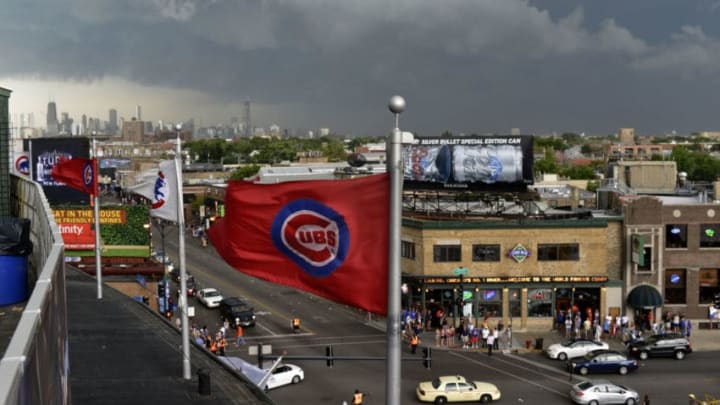 Wrigley Field (Photo by Brian Kersey/Getty Images) /
All teams, including the Chicago Cubs, will hold spring training at their home facilities
All Major League teams, including the Chicago Cubs, will hold spring training 2.0 at their home parks. MLB commissioner Rob Manfred is in the process of implementing a shortened season. With an upcoming season comes the continuation of spring training, or spring training 2.0, if you will.
Spring Training was underway in 2020 until mid-March, when the COVID-19 pandemic shut the sports world down. With this in mind, it would make sense to have spring training pick up right where it left off down in Arizona and Florida. However, due to health concerns, this will not be the case.
A report that came out says that every MLB team will be staying home for the upcoming rendition of spring training, due to the rapid increase of COVID-19 cases in both Arizona and Florida. On Saturday, Bob Nightengale of USA Today tweeted that every MLB club has officially decided to have spring training in their facilities.
This news came following the previous report, which said the MLB was going to shut down all spring training facilities in both Arizona and Florida for a deep cleaning, and both players wouldn't be allowed back until testing negative for the virus.
This decision was made after at least five Philadelphia Phillies players tested positive for COVID on Friday. With that, both the Phillies and the Toronto Blue Jays closed their spring training facilities in Florida immediately. In addition, the San Francisco Giants closed their facility in Arizona after someone there showed symptoms. If this wasn't enough, the Houston Astros confirmed one of their players tested positive, and the Los Angeles Angels learned that two of their players tested positive for the virus.
As time went, more and more teams had COVID-19 cases being surfaced, leading to this announcement. Meanwhile, MLB commissioner Manfred has decided to move forward with a 2020 season despite a lack of a deal with the players. After the Major League Baseball Players Association rejected the latest proposal from the MLB, Manfred decided to enact a 60-game season anyway.
Abiding by the agreement initially put in place in March, Manfred and the owners are proceeding with the 2020 calendar as soon as the union agrees to health protocols and verifies that players will be ready to begin spring training 2.0 by July 1. As Chicago is soon entering Phase 4, and there is word of baseball coming back, it seems as if Chicago Cubs baseball at Wrigley Field will be back very soon.