Chicago Cubs: One man's trash is another one's treasure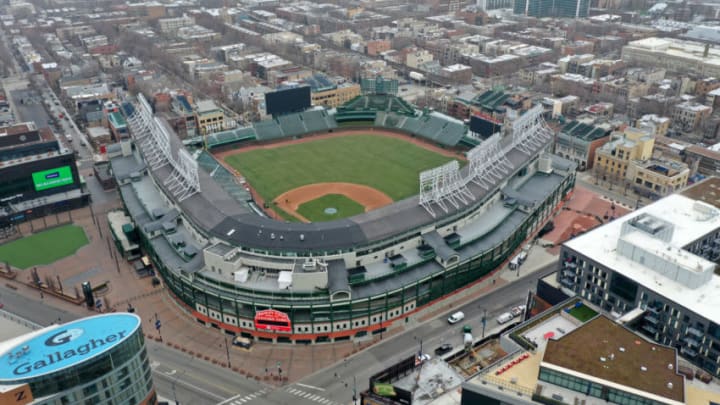 Chicago Cubs (Photo by Scott Olson/Getty Images) /
The Chicago Cubs are looking in a five-round draft for something good. Did they find it?
The Chicago Cubs and a diamond in the rough? And better yet, a five-round draft? Slim. But they used it on a guy they've been dying to get. And the pitcher? May be here by summer, if that happens.
The Cubs and the draft–a socially distant draft–is complete. They got Ed Howard, a Mount Carmel prospect, and then a pair of fireballing left-handers. The five they got are good. Real good. And Burl Callaway? He could be ready by this summer–at least if they play. The rest are not likely to play, but we can see them soon.
Dan Kantrovitz, vice president of scouting, sees no worries about getting them signed. The 'quiet period' runs until Sunday, which they will have a Zoom session with the staff. After five rounds, more good players remain. But severe spending limits will impact the teams.
""It's just hard to have a whole lot of visibility right now in what that process is going to look like, having never done it on our own," Kantrovitz said, "and I think the players themselves, frankly, are a little unsure and uncertain what they might want to do." h/t Gordon Wittenmyer, NBC Chicago"
The uncertainty of the coronavirus tops having a draft that was 35 rounds short, or the regular Zoom sessions that littered the way. In short, the draft was not kind.
Mostly, it amounts to a 'squeeze' on talent–with college seniors who go unsigned. Believe me. I witnessed it. High school and college seniors will get it together–if they are drafted. And with the MiLB canceled? They'll have no room to sign by volume.
The Cubs have sold their state-of-the-art and high-tech player development to the players. Will all that be lost? You never know how much will be misplaced along the way.
""At the end of the day if you get one big-leaguer from the post-draft process, I think it's a resounding success," Kantrovitz said. "That's our goal, and I think it's the same goal if you would have been drafting in the sixth, seventh, eighth, ninth, 10th round."
That's true. But if you're not picking into the sixth, seventh, etc.? You rely on your scouts to maintain a relationship with them. If it's only 'five, then go home?' Good. But that's not the case. As a scout, you have to work together on that. That's the only way.