Cubs' new organist plays concert for COVID-19 lockdown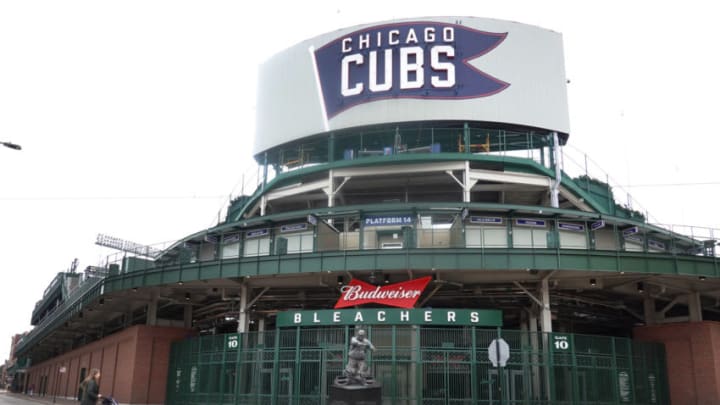 (Photo by Scott Olson/Getty Images) /
As COVID-19 continues to delay the comeback of sports, Wrigley Field and the Chicago Cubs let the organs sing on a Friday afternoon.
On a beautiful day for baseball in Chicago, the Chicago Cubs decided to try and cheer up the people by letting the organs sing.  This day would have been perfect for an afternoon game in the bleachers joining more than 30,000 of my closest friends in cheering for the Cubs as residents of Wrigleyville opened their ears to something they expected to hear a month ago on opening day.
""It brings some normalcy back to the neighborhood," said resident Drake Fitzsimmons. "It's been really quiet with not much going on. But to hear the organ again and see the sign, it's just nice.""
Lauren Gapastione reasoned there wasn't much happening in Wrigleyville.
""There would normally be tons of people out here having fun, celebrating. Definitely missed that," said Gapastione."
The bars aren't packed, the seats inside sit untouched. It's certainly no typical night at Wrigley Field, as Steve Lapp pointed out.
""We are terribly bummed," said Cubs fan Lapp. "I was looking at all the stuff taped off, the gates closed.""
But Cubs fans are as dedicated as they come. The Lapps are so desperate for even a taste of baseball season they drove in from Rockford in full gear just to hear a few songs and take in the scene.
""We just have had so many wonderful memories, anniversaries, big birthdays coming in here," Annie Lapp said."
Cubs' fan Gary Childers agreed with the sentiment.
""For them to be able to even just do this for us, for them, is amazing," said Childers. "We don't want them to go away." h/t Liz Nagy, ABC7 Chicago"
A little Friday night music helps pass the time until some sort of Opening Day.
For the first time all summer, the streets surrounding Wrigley and all of Wrigleyville itself got to hear the sweet songs of the organ. On a beautiful sunny day in Wrigleyville, this made everything seem normal for a bit. Everyone put what was going on behind them and just thought about Chicago Cubs baseball.
But was there a real meaning behind this organ playing? With Gary Pressy's replacement still not announced on this Friday we all think who is playing those pipes. It was the Chicago Cubs newest organ player and successor of Gary Pressy, John Benedeck. Benedeck grew up a Cubs fan in the Northwest suburbs of Chicago and attended Western Illinois University.
The organs give all fans a sense of hope that maybe the season is coming soon, in some way. Or for Cubs fans, it may be the only organs from Wrigley heard this 'supposed to be the season.' But from hearing what Tom Ricketts had to say, it didn't sound like baseball was coming back anytime soon. But for now, we can all hope that those organs will sing for a Cubs game this season.