Chicago Cubs: 'Smiling' Stan Hack remains an all-time organizational great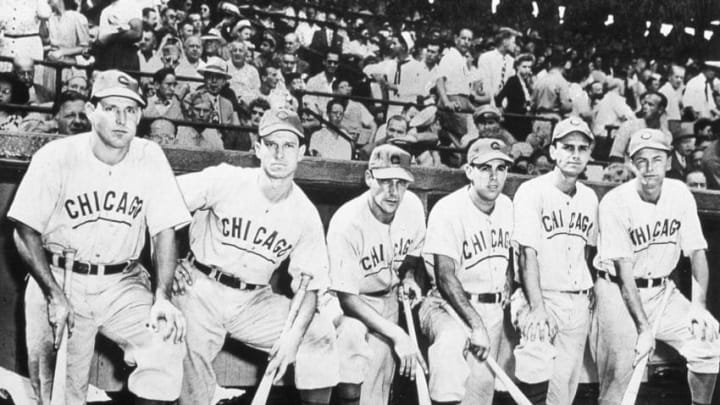 Chicago Cubs (Photo by Mark Rucker/Transcendental Graphics, Getty Images) /
Chicago Cubs (Photo by Chris McGrath/Getty Images) /
Chicago Cubs: One 'Hack' of a career
Hack will go down as one of the least talked about Cubs in history. It is just a fact. However, the scrawny third baseman from Sacramento will also go down as one of the best in Cubs history. Not only did Hack manage to stay in the major leagues for 16 years, but he also accomplished the rare feat of playing with the same team his entire career.
Throughout his seasons in 1945 and 1946, Hack managed a whopping 130 OPS+, hitting .310 with 182 free passes to just 62 strikeouts. He worked walks 16.4 percent of the time while striking out at a lowly 5.6 percent rate. Hack also accomplished this at the brisk ages of 35 and 36 years old, respectively.
The 1945 season was a culmination of sorts for Hack's career as the club won the National League pennant. While the team ultimately fell to the Detroit Tigers in the World Series, in seven games, it was not without a fight. A moment which should never be forgotten is Hack's game-winning double, which squeaked past outfielder and Hall-of-Famer Hank Greenberg, in the 12th inning to catch the victory. It became a defining moment in Hack's career.
By 1947, at the age of 37, Hack was nearing his time to hang up the cleats. He still somehow managed a single-digit strikeout rate and a slightly below league average 93 OPS+, but all of that did not matter. Hack finished his career with a 12.8 percent walk rate to a 5.5 percent strikeout rate and hit .301 over 1,938 career games. Relative to his teammates and the league, Hack's memory will remain in Cubs lore and give fans something to discuss even 73 years later. Hats off to you 'Smiling' Stan Hack.