Chicago Cubs: Five facts you might not know about Wrigley Field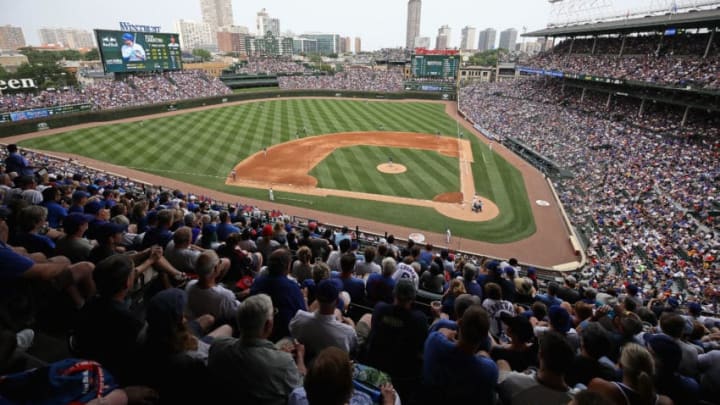 General pic, Wrigley Field (Photo by Jonathan Daniel/Getty Images) /
(Photo by Mark Rucker/Transcendental Graphics, Getty Images) /
Chicago Cubs: The outside of Wrigley Field for a number of decades looked like a snapshot of the Industrial Revolution.
Today fans go to Wrigley Field and enjoy a pregame at Gallagher Way or see the Hotel Zachary on the Clark Street (west) side of the ballpark. This has obviously only been around a few years. The space is remembered by most living people as being the former player's parking lot for a number of decades and where the old McDonald's was across the street, but fans over 65 might recall the days the space was once the site of coal yards and industrial silos.
One might stumble across old photos of Wrigley Field and see a series of concrete silos, train tracks and steel cranes. The coal bunkers in that area were owned by the Collins and Wiese coal company from the 1920s until around the start of the 1960s. The bigger concrete silos were owned by Chicago Solvay Coke, which had signs bearing the name on top of them.
There was also an old street that ran along side the grandstand through that triangle space. Today it was about from the spot where there is space between the new office building and the ballpark through where the Ernie Banks statue is. Much of that area also had tracks running for both freight trains and street cars to help transport the public to the ballpark and surrounding areas. In fact, when they began the 1060 Project in late 2014/early 2015, the surrounding roads were dug up and the old tracks were found underneath.
By 1962 all of that stuff was gone and the space was just a flat parking lot. Next time you are at Gallagher Way in the grassy area or the fountain areas with the benches and stage area, remember you are standing on a piece of land that was once an industrial yard.