Chicago Cubs: Cubs songs you might not know by heart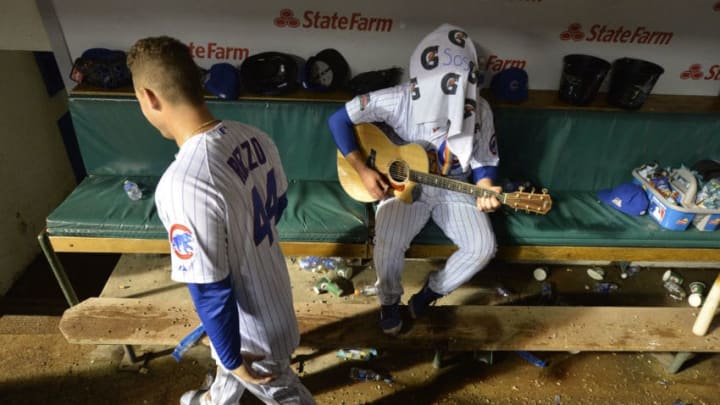 Anthony Rizzo / Chicago Cubs (Photo by Brian D. Kersey/Getty Images) /
Dexter Fowler, Anthony Rizzo, Jon Lester and David Ross / Chicago Cubs (Photo by Jonathan Daniel/Getty Images) /
Chicago Cubs: Cubs songs from yesterday and today
One of the Cubs' most popular hits that are rarely ever heard these days is the song, "Hey! Hey! Holy Mackerel" written by American jazz violinist and bassist Johnny Frigo. Frigo was born in Chicago and wrote and performed the Chicago Cubs fight song for the first time back in 1969.  I love this upbeat Cubs song with the chorus, "The Cubs are on their way…" and the music is priceless.  Be sure to give it a listen.
In 1984, it was becoming more common to see athletes in the studio recording songs, similar to the Chicago Bear's Shufflin' Crew, "Super Bowl Shuffle" song. Some of the Cubs players got together and performed the ragtime country-rock song, "Men in Blue" for fans of the 1984 Cubs.
The song features famous Cubs players like pitcher Rick Sutcliffe, catcher Jody Davis, first baseman Leon Durham, utility Keith Moreland and outfielder, Gary Woods. Another great tune with a ragtime hook, "As sure as there's ivy on the center-field-wall, the Chicago Cubs are gonna win it all" is an instant classic as soon as the Cubs start singing!
In 1995, an alternative group, The Mountain Goats released, "Cubs in Five" from the group's EP "Nine Black Poppies." The song is an alternative classic that sounds like it was recorded on a tape cassette player in someone's bedroom. The chorus of the song is the hook that keeps fans listening even though the song spends most of its time describing highly unlikely situations; it counts the Cubs winning a championship as one of those occurrences mixed with a lost love song:
""And the Chicago Cubs … will beat every team in the league, and the Tampa Bay Bucs … will make it all the way through January, and I will love you again, I will love you like I used to.""
The alternative pounding guitar and harmonies make this an instant classic that can't be missed.
Who knows what youngster in his basement writing the next great Chicago Cubs fight song? While we're waiting for that time to arrive, just enjoy some of these great classic Cubs songs tonight:
1.       "Hey! Hey! Holy Mackerel" by Johnny Frigo 1969
2.       "When the Cubs Go Marching In" by Steve Goodman 1970
3.       "A Dying Cub Fan's Last Request" by Steve Goodman 1983
4.       "Men in Blue" by Chicago Cubs Players 1984
5.       "Go Cubs Go" by Steve Goodman 1984
6.       "Cubs in Five" by The Mountain Goats 1995
7.       "(Someday We'll Go) All the Way" by Eddie Vedder 2008