Chicago Cubs: Would watching games at empty ballparks suffice?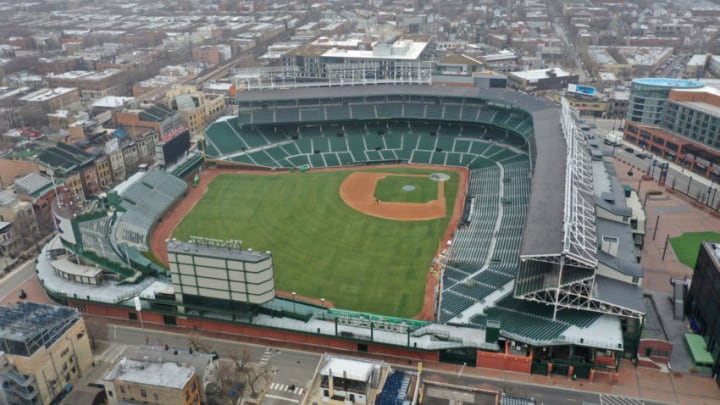 Wrigley Field, home of the Chicago Cubs (Photo by Scott Olson/Getty Images) /
Would watching a Chicago Cubs game at empty ballpark work? No, it wouldn't. So why would you do it?
Let's face it. The Chicago Cubs and an empty stadium would seem wrong. So why do it? Well, the television market would do it. Plus merchandise? Because you don't hear about top-selling jerseys these days, do you? Or hats, blankets or more. No, you don't.
Paul Sullivan wrote a column about the White Sox and was split 50/50 between the Sox and Cubs. I believe it more Cubs, but I'm but splitting hairs. He knows, I don't. But as far the Sox and Cubs? He started 0-14 as a beat writer for the Cubs. And the White Sox? He began with Albert Belle and the famous corked bat. Yeah, good start.
So what's with starting a game with no fans? First off, it kicks off our fandom; however it may be. And with the coronavirus reaching a threshold (please!), it seems like there will be bottoms in those seats. But again, this is a pandemic. I don't know when it will end.
What now? Many will act like their 'addicted' to baseball and that's fine. But what about when you stare out your window during the winter?  You go what, five months without it? And you're fixated on it? No. You think you are, but your not. You quit 'cold turkey' and your fine until spring comes.
What if baseball doesn't come back because of the coronavirus? Would we be best waiting on it instead of risking it? To be honest, I don't know. A small part of me wants to see baseball back–without fans or not. But part of me wants to see the peanuts and cracker jacks–get it? Cold beer, which I'm not allowed to have. Harumph. Chicago dogs, nachos and whatever else I want–within reason.
The reason that President Donald Trump is meeting Tom Ricketts and several sports executives is to get the sports world going.
""We want to get our country open again," Trump said after the call at his daily coronavirus press briefing. "We want to have our sports leagues open. You want to watch sports. It's important. We miss sports. We miss everything. We want to get back.""
I agree 100%. We want the NHL, NBA, NASCAR, MLB and every sport back–even if I don't like a few of them. So I'll sit here, staring out my window and wish that sports would come back–with or without fans.