Building a Chicago Cubs All-Star super team for the record books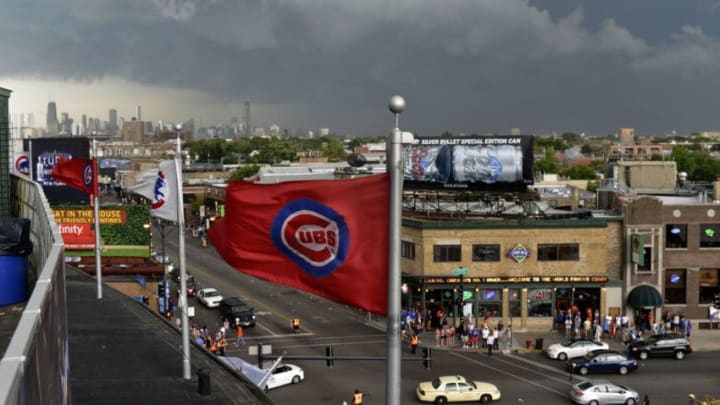 Wrigley Field (Photo by Brian Kersey/Getty Images) /
Carlos Zambrano / Chicago Cubs (Photo by Brian D. Kersey/Getty Images) /
Chicago Cubs: Velocity and accuracy on the mound
Starting Rotation
The Cubs drafted Kerry Wood in the first round (fourth overall pick) of the 1995 amateur draft. He spent 12 years with the Cubs. His overall record was 80-68 for .541 winning percentage. He compiled a career 3.67 ERA in the 341 games he pitched as a Cub. His most famous game was where he struck out 20 batters in 1998. Wood was named an All-Star in 2003 and 2008.
On July 12, 1997, the Cubs signed Carlos Zambrano as an amateur free agent. During his time with the team, he posted a career record of 125-81. In 1,826 2/3 innings pitched Zambrano struck out 1,542 batters. Known for his temper as well as his work with the lumber, we all remember him taking his anger out on a water cooler that was sitting in the team's dugout. On a lighter note, Zambrano was named an All-Star in 2004, 2006 and 2008 seasons.
A lot of people probably didn't know Lon Warneke unless you grew up during this time. Warneke pitched for the Cubs for 10 years. During his run with the team, he had a record of 109-72 while striking out 706 batters in the 1,624 2/3 innings pitched. As a Cub, he was named to three different All-Star teams.
Greg Maddux joined the Cubs when he was 20 years old. He later went on to pitch 10 seasons for the Cubs. A two-time All-Star with Chicago, he posted a 133-112 record with a career 3.61 ERA in 2,016 innings pitched. As a member of the Cubs, he won the 1992 National League Cy Young award and the NL TSN Pitcher of the Year award. We all wished this multi-Cy Young Award winner would have stayed in Chicago but he did not as he joined the Atlanta Braves in free agency in 1993 and turned in a run of dominant campaigns. Maddux was elected to the Hall of Fame in 2014.
Fergie Jenkins was traded by the Philadelphia Phillies with John Herrnstein and Adolfo Phillips to the Cubs for Bob Buhl and Larry Jackson in 1966. Jenkins went on to play 10 seasons with the Cubs. In those ten 10, the right-hander had a career record of 167-132 with a 3.20 ERA in 2,673.2 innings. Throughout his career, Jenkins appeared in three all-star games. He won the 1971 NL TSN Pitcher of the Year award and the 1971 NL Cy Young award. Jenkins was selected to join the Hall of Fame in 1991.
Honorable Mentions: Mark Prior, Ted Lilly