Chicago Cubs' Hernan Perez has a 'weird' feeling vs. the Brewers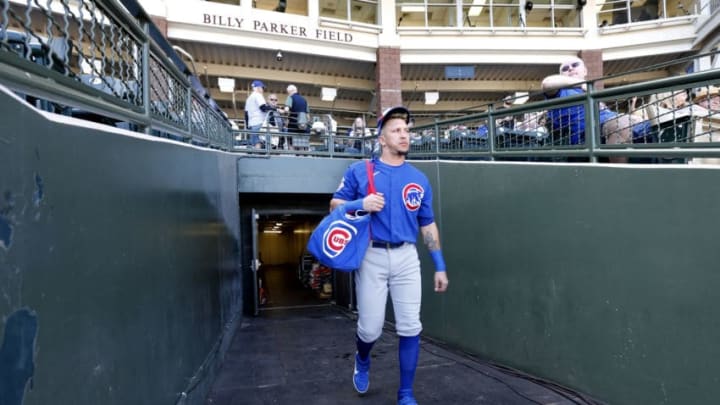 Hernan Perez, Chicago Cubs (Photo by Ralph Freso/Getty Images) /
Well, there you have it. The Chicago Cubs' Hernan Perez has a 'weird' feeling vs. the Milwaukee Brewers. He started at third base and it was just strange.
The former Milwaukee Brewers and current Chicago Cubs Hernan Perez have a 'weird' feeling against the team. And it's not surprising. The infielder is trying to win a job with the Cubs. He says he hasn't been stuck in the outfield yet, but he expects to be there sometime soon.
He got the start at third base in the exhibition game. Asked if it was strange starting against the Brewers, he said it was odd. Even though 15 players were let go, Perez has a personal bond with some of the players.
""I still talk with Orlando Arcia, Manny Piña, those guys. I talk with Ryan Braun, Lorenzo Cain. They know what to do. They miss some of the players who left, and I miss them, too." h/t Tom Haudricourt, Milwaukee Journey Sentral"
He was privy taking part in those. Heck, he was one of them. In the end, they brought in talented players. With rosters expanded to 26 players, he's got a chance to make the roster. He signed a minor-league deal, which means he's close.
""I've been working everywhere in the infield," he said. "I haven't played the outfield yet. They told me in the coming games I'm going to play the outfield, too.""
Perez turns 29 on March 26. Let's just say he'd like to line up with his Cubs teammates. Of course, nothing was normal when he signed with the team. Not at all.
""There were a lot of fans saying a lot of stuff on social media," he said with a knowing smile. "It's my job. I have to go wherever I feel comfortable and get a chance to be in the big leagues again."
Perez has a shot making the team. At least as a pinch hitter or a late-game substitution. The 26-man has a different feel, and David Ross knows this. Ross spoke about this the other day.
Theo Epstein, Jed Hoyer and Ross know that this is going to be a difficult decision. The 26-roster place is one that will take some judgment and some planning. It's not going to be an easy one, that's for sure.