Chicago Cubs: The few times Wrigley didn't feel like home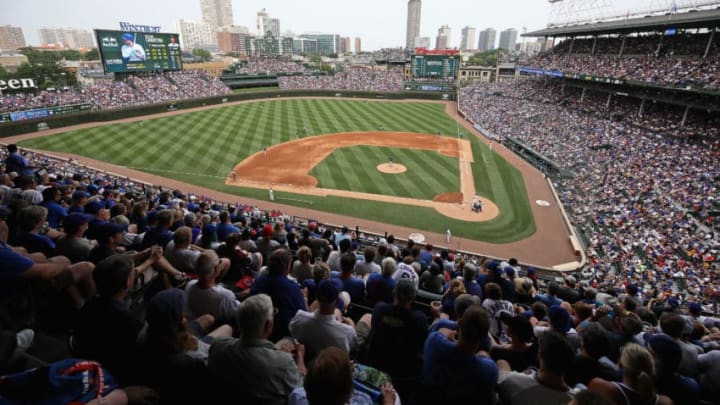 General pic, Wrigley Field (Photo by Jonathan Daniel/Getty Images) /
A Kansas City Royal. Kansas City Royal (Photo by Jonathan Daniel/Getty Images) /
Chicago Cubs: In their championship season, the Kansas City Royals paid a visit to Wrigley and brought their loyal subjects with them.
You're probably sensing a theme here. American League teams. It makes perfect sense considering none of these teams visit Wrigley Field often when the Royals came to Wrigley Field in May of 2015 for the first time since 2001. While the Cubs were up and coming, the Royals were coming off a pennant in 2014 and would be in the middle of a campaign that ended with a World Series win.
The Cubs and Royals played two of three in late May while seeing the final game postponed to the end of the season. All three games had one thing in common…TONS of Royals fans. Chants of "Let's go Royals" rung throughout the ballpark every game from start to finish. When Mike Moustakas would come to the plate, the "Mooooooooooose!" chants filled the air and could be heard around the whole neighborhood. There were plenty of Moustakas and Alex Gordon jerseys at Murphy's Bleachers before and after the games.
As for the estimation of fan ratio that series, it felt like 60-40% Royals-Cubs. This invasion was also surprised at the time, considering the Royals, despite being rejuvenated, had been bad for years, and Kauffman Stadium was empty for so long. However, the Royals have a section of die-hards, and many of those made the trip to Chicago. In the end, the Cubs got walk-off hits from David Ross and Chris Denorfia to take two of three this series.