Chicago Cubs: The few times Wrigley didn't feel like home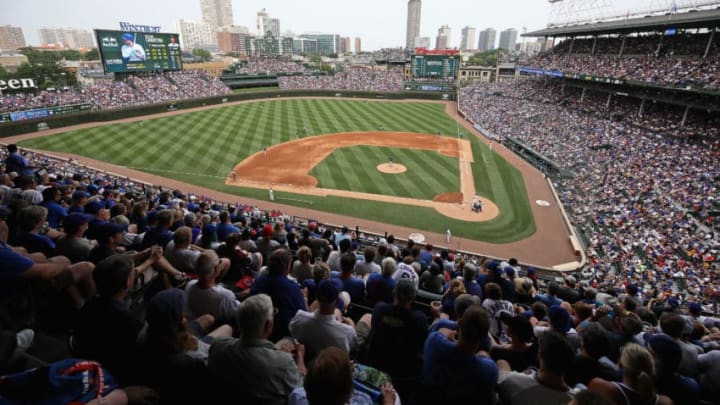 General pic, Wrigley Field (Photo by Jonathan Daniel/Getty Images) /
Jose Bautista, Toronto Blue Jays (Photo by Dylan Buell/Getty Images) /
Chicago Cubs: Hard to tell by the naked eye, but you just had to listen to hear Canada invading Chicago.
Back in 2017, the defending World Champion Chicago Cubs took welcomed the Toronto Blue Jays to Wrigley for the first time since 2005 for a three-game set. Canada's baseball team, in general, is the Blue Jays, so they have themselves a pretty big following. They certainly did not shy away from coming to the Friendly Confines.
Walking around Wrigleyville before the games were like walking through the streets of Toronto with thousands of people sporting Blue Jays gear. For every one Cubs fan, five Blue Jays fans were standing around the ballpark. Once inside, looking around, it was kind of hard to distinguish the ratio of Jays and Cubs fans since both team's colors are primarily blue and white, so they all blended together.
It was during the anthems when the Jays fans stood and cheered, "Let's go Blue Jays!" when it sunk in how many of them there were. It was not a muffled and subtle chant; it was like being at Rogers Centre. When the Jays scored runs, it was just as loud if not louder than when the Cubs scored. The Cubs fans, however, would get the last laugh as their team swept the Jays in epic walk-off fashion in the Sunday finale.
To credit the Jays fans, they were classy the whole time and a lot of fun to be around.