Chicago Cubs: The few times Wrigley didn't feel like home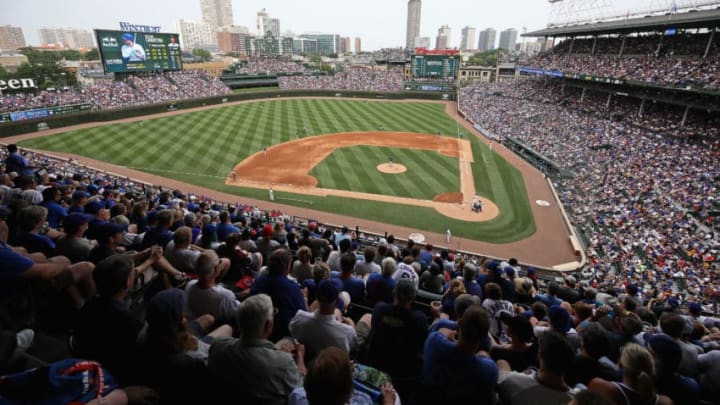 General pic, Wrigley Field (Photo by Jonathan Daniel/Getty Images) /
(Photo by Jonathan Daniel/Getty Images) /
One thing we can always guarantee about Chicago Cubs fans and Wrigley Field is that it will be full of people on a beautiful summer day. There are a few instances where it is full of people that are not always on the Cubs side.
Anyone who follows the Chicago Cubs knows that their fans show up in droves to watch their team at both Wrigley Field and on the road. Often Cubs fans on the road turn an opponent's stadium into Wrigley 2.0 when thousands of them show up decked in blue and cheer loudly.
Having a great fan presence on the road and knowing when they play at Wrigley Field, the crowd will have their backs is a nice luxury the Cubs have. Even when the ballpark gets tons of visitors from other places every year, the crowd is pro-Cubs.
With that being said, there are some rare occasions when a packed Wrigley Field does not love the Boys in Blue. The idea of an opponent being cheered for louder than the Cubs at the Friendly Confines is not something Cubs fans are very used to, but it has happened.
Sure, we regularly see a lot of red at Wrigley when the Cardinals are in town and plenty of White Sox fans in the stands when the Crosstown Series is going on, but that is normal and expected.
Now, these few occasions, we will look back on account for games/series, which Wrigley saw at least 50% or more (rough estimations of course) of the crowd supporting the visitors. Because this does not happen often, it is fascinating to talk about because it can give us Cubs fans a taste of our own medicine when we turn other ballparks into a pro-Cubs crowd.