Cubs Kris Bryant could be headed to the New York Mets?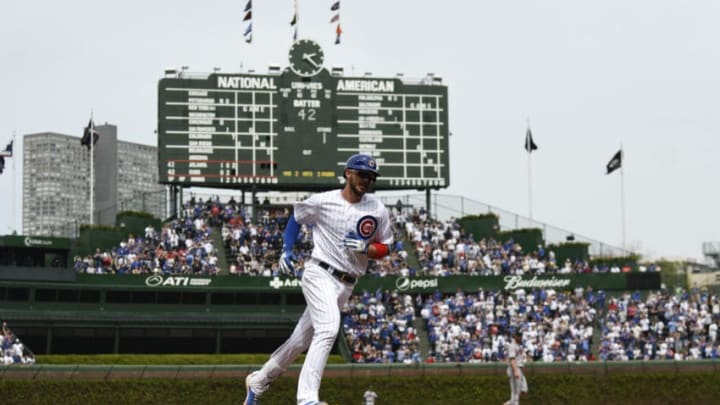 Chicago Cubs /
The Chicago Cubs and the New York Mets should be 'all-in' on a deal for Kris Bryant. The reason not to? The Mets don't feel like it's necessary to include 'top prospects.'
Imagine that the Chicago Cubs and the New York Mets could make it a blockbuster deal, trading Matthew Allan, Andres Gimenez and J.D. Davis for Kris Bryant. Could you picture it? Then, imagine it wouldn't happen because Davis wouldn't be part of it. And the two 'mid-level' prospects wouldn't cut it.
Davis had a breakout season, hitting a slash line of .307.369./527 with an OPS of.895 in 140  games. Not bad. But he wouldn't be included, at least that's what Brodie Van Wagenen is implying. And to be honest? I would. This is the deal that could be a 'game-changer.' Three for one, but to rebuild what was lost? Man. I'd take it.
But Van Wagenen seems hesitant to deal Davis, but it looks like that's a lost cause. With Allan and Gimenez being some mid-level prospects and Jed Hoyer can name any price? Well, you get the picture–hard pass.
It seems to me that he would do it. Bryant's 21.7fWAR since 2016, ninth-best in MLB, make the ideal candidate to throw them over the top. Plus his slash of .284/.385/.516 with 138 home runs and 403 RBI? Sign me up. But I digress.
And it's not that I want to see the 'core' be traded. On the contrary, we'd be gaining three players: one major leaguer and two mid-levels. And the mid-levels could turn out to be talented. In the end, three-for-one is a trade-off that has to be made.
In the end, Van Wagenen needs to prioritize what he wants. And in the end, its Hoyer that will make the call on if he accepts. In the end, the Mets could be squeezed out of this, and that's a shame because the Mets are a good trade partner. Also, it's a slow news day. 🤷‍♂️