Chicago Cubs: Wrigley Field will have extended protective netting in 2020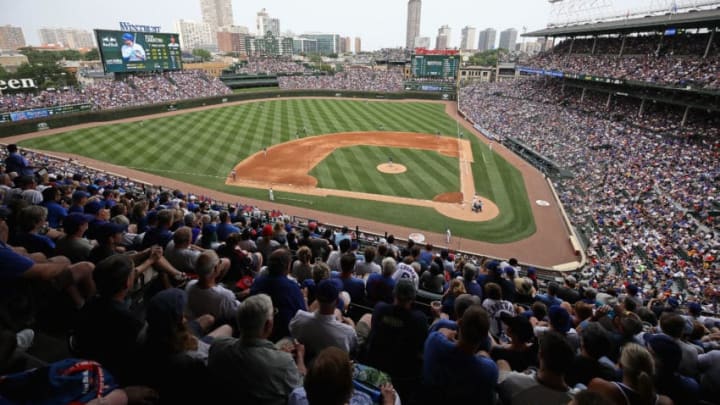 General pic, Wrigley Field (Photo by Jonathan Daniel/Getty Images) /
Tragedy struck the Chicago Cubs last summer when a foul ball injured a young fan in Houston. They're now taking steps to keep fans at Wrigley Field safe.
The 2020 season is rapidly approaching and yet another Cubs Convention has come and gone. Every year, the organization addresses a myriad of topics at the event – and this year was no different. While Marquee Sports Network garnered most of the headlines, another important change is coming to Wrigley Field.
Chicago Cubs president of business operations Crane Kenney announced that netting at Wrigley Field is going to be expanded past each of the team's respective dugouts up to the "elbows" of the outfield wall.
More from Cubbies Crib
In simpler terms, this means that the netting will stretch past each of the dugouts and will stop before the walls in both the left field corner and the right field corner respectively. In terms of feet, the netting will be increasing from 340 to 560 feet and is expected to be ready for Opening Day. While this idea was just officially announced, this issue of possibly extending protective netting has been an issue surrounding the MLB for quite some time now.
This issue took center stage for Chicago last season in a game at Minute Maid Park against the Houston Astros. Outfielder Albert Almora Jr. at Minute Maid Park in Houston struck a 2-year-old girl in the head with a screaming foul ball. After the incident, Almora, who has kids himself, was torn up and spoke out about the importance of extending protective netting. In fact, he talked about it again at Cubs Convention and mentioned how he tried to reach out to the family, but ultimately has to respect their privacy, as well.
Incidents like this – which in this case led to permanent brain damage for the young fan – prompted the league to take action with protective netting. Earlier this offseason, MLB commissioner Rob Manfred ultimately announced that all 30 ballparks will extend their netting for the 2020 season.
When Manfred made this announcement, it was very broad and he didn't specify what each team would be doing. Now that the Cubs have announced their plan, fan safety is ensured and folks in attendance can know that heading into the new season.
If you ask me, the club did what they needed to do to improve conditions at Wrigley Field. Fan experience is a vital part of what makes the game so welcoming and enjoyable and safety is a huge part of that.
Imagine if you or a family member was struck by ball that found its way into the stands traveling at triple-digit speeds. It's a scary thought. Yes, there is no denying that some fans will have to "deal with netting being in their way" and "obstructing their view" but that's a non-factor when you're talking about potentially saving lives.