Chicago Cubs have to go sign Gerrit Cole or Stephen Strasburg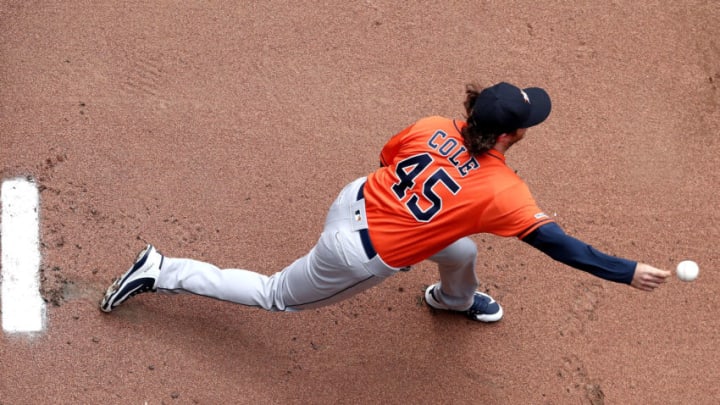 SEATTLE, WA - APRIL 14: Gerrit Cole #45 of the Houston Astros warms up prior to taking on the Seattle Mariners during their game at T-Mobile Park on April 14, 2019 in Seattle, Washington. (Photo by Abbie Parr/Getty Images) /
(Photo by Stacy Revere/Getty Images) /
With what seems like another moratorium on offseason spending from Tom Ricketts, Theo Epstein will have to get super creative if the Chicago Cubs want to land an ace.
If the Chicago Cubs (and all of baseball, really) learned nothing from this postseason, it's that pitching is um… well, sort of important. To say the least. That and the Cubs should really make a run at Howie Kendrick this offseason.
More important to the point of this piece, though, is that having an ace up your sleeve gives you a huge advantage in a playoff series. Having two or three means you've got a shot in every game. Stealing a Gerrit Cole or Stephen Strasburg away from a competitor also means you've killed two birds with one stone (and we like crushing red birds in Chicago).
While there have been myriad changes and disappointing outcomes since the Cubs won the World Series in 2016, what most people (fans included) forget is that the Cubs had three legitimate aces during that miraculous run. In fact, those same three Cubs finished in the top 10 of NL Cy Young balloting that season.
Jake Arrieta was fresh off a 2015 MVP season for the ages and had a crazy first half in '16, ultimately posting 18 wins and placing 9th in the Cy running. Jon Lester won19 games against only five losses and posted a sparkling 2.44 ERA. Kyle Hendricks won 16 as well and won the MLB ERA crown at 2.13. Lester and Hendricks finished second and third respectively in the Cy Young balloting.
With everyone looking for ways to reinvent the wheel and get the Cubs back to the postseason, why not look at the easiest explanation – we haven't had the thoroughbreds to ultimately pull us ahead by a nose at the end in a tight race. Sure, there have been issues at second base, center field and in the bullpen.
There have been issues with injuries and bad free agent signings. Maybe Joe Maddon should have kept a more structured and set lineup. However, even with all of those problems, the Cubs have been positioned to do some kind of damage come September in each of the last three years. There was something missing, despite all the other warts…