Chicago Cubs fans can be thankful after seeing Dodgers' collapse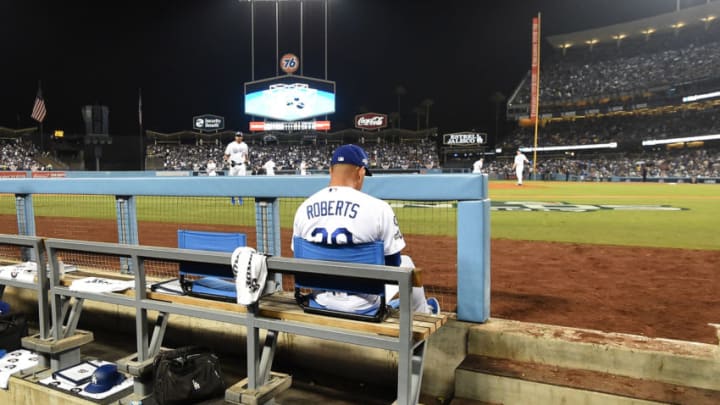 LOS ANGELES, CALIFORNIA - OCTOBER 09: Manager Dave Roberts of the Los Angeles Dodgers sits in the dug out during game five of the National League Division Series against the Washington Nationals at Dodger Stadium on October 09, 2019 in Los Angeles, California. The Nationals defeated the Dodgers 7-3 and clinch the series 3-2. (Photo by Harry How/Getty Images) /
(Photo by Harry How/Getty Images) /
After seeing the Los Angeles Dodgers come up short yet again this October, Chicago Cubs fans can look at things through a much better lens moving forward.
The Chicago Cubs failed to make the playoffs this season for the first time since 2015. The Dodgers won 106 games and their seventh straight division title. Since 2015, the Cubs have one 100+ win season, three 90+ win seasons and a pair of division titles.
Both teams' core players are intact and with the team for two or more years yet. Javier Baez, Anthony Rizzo, Kris Bryant, Kyle Schwarber and Willson Contreras comprise that ground for the Cubs. Cody Bellinger, Corey Seager, Walker Buehler, Joc Pederson and now Will Smith seem to be the guys for the Dodgers.
These groups are 1-1 against each other in the postseason, with the Cubs winning in their magical 2016 season and the Dodgers returning the favor in 2017.
Heading into the 2019 season, the Cubs had the most wins in baseball of any team since 2015 with 387 wins, followed by the Dodgers at 379, then the Houston Astros at 374. After 2019 however, the Dodgers lead the way with 485 wins, followed by the Astros at 481, and then the Cubs with 471.
Chicago, of course, won the World Series in 2016. The Astros won the World Series in 2017. The team the Astros beat was the Dodgers. The Dodgers then reached the World Series again in 2018 only to lose again to the Boston Red Sox.
Head-to-head since 2015, the Cubs have played to a 16-18 record vs Los Angeles. These teams seem about as equal as they can get, so after the Dodgers' postseason without a World Series championship for the seventh straight year, the question becomes who would you rather be a fan of moving forward?*
(This exercise is looking at roster makeup, farm system, and trajectory of the organization only, throw the fandom aside for this one)