Chicago Cubs: Ben Zobrist's family comes first, and that's perfectly fine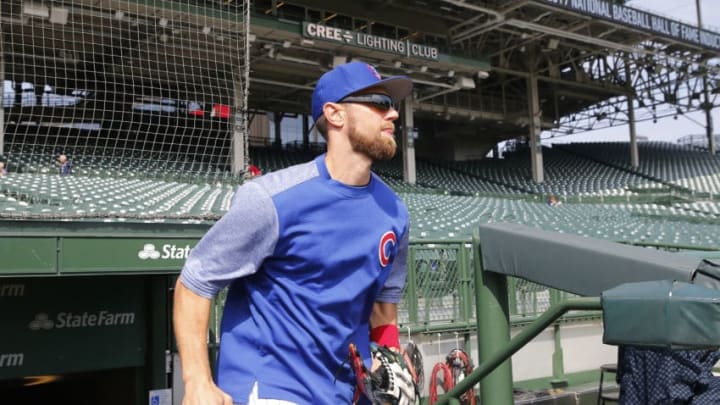 (Photo by Nuccio DiNuzzo/Getty Images) /
The Chicago Cubs Ben Zobrist was appreciative in his press conference, showing family is more important than anything else. But while Zobrist was absent, his Cubs' teammates felt they needed him back.
The Chicago Cubs Ben Zobrist is back. After rehabbing for a better part of a month, Zobrist was activated September 1 in time to make the playoff roster. Zobrist took a four-month leave to deal with his divorce. And while nothing is final, Julianna and Ben have put their divorce proceedings on hold, and he still wears his wedding ring. So I say it was a four-months away from the team well spent.
Zobrist was excited to be back with his teammates, and they were glad to have him again. Walking away from your team to be with family is a natural choice, and the Cubs made it even easier for him. His team made him feel wanted, and he felt obligated to let them know where he was at.
""That was of primary importance, to tell them how I was and just asking for them to be patient with the process personally for me and, if I could, try to get back with them," Zobrist said. "They don't need me by any stretch of the imagination, but they always made me feel wanted. That they wanted me back … that's all you want from your teammates." h/t Russell Dorsey, MLB.com"
And while he wanted to be with the Cubs, he felt he couldn't give them the effort and focus day in, day out that he was used to. He's a professional, and if he can't give it all he has? He won't.
""I knew, at that moment, there was no way I could be here and be focused while I was here," Zobrist said. "I didn't want to give half-effort while I was here and think about where my head and heart really were. So I knew for a period of time I needed to fully put myself back in Nashville, back at home with my family doing everything I could to keep my family together."
Bravo, Zobrist. Bravo. At times, you'll see athletes 'focus on the season' while neglecting their family. But Zobrist chose a different path and took leave to put all his effort and love into his family to keep them together. So far, it's worked.
Zobrist doesn't know if he will hang it up after the season. But David Ross chose to retire at the end of the 2016 season, a World Series Champion at 39. Zo is 38, and father time can get you in a hurry.
""I haven't made a full decision on retirement yet or anything like that," Zobrist said. "But I do know that the time is coming soon for me to put all my focus on my kids' activities and those things."
I believe this, Zobrist should retire at the end of the season. For his family, not for his Chicago Cubs' teammates. He's an ageless wonder, and I doubted him when he hit a career-high .305 in 2018. Never again. He may have something in the tank left, but he needs to 'gas up' and spend the time with his family.
He's accomplished so much. Two-time World Series Champion, World Series MVP and a three-time All-Star. Happy trails, Zo.