Chicago Cubs: Craig Kimbrel to pitch again Friday in Iowa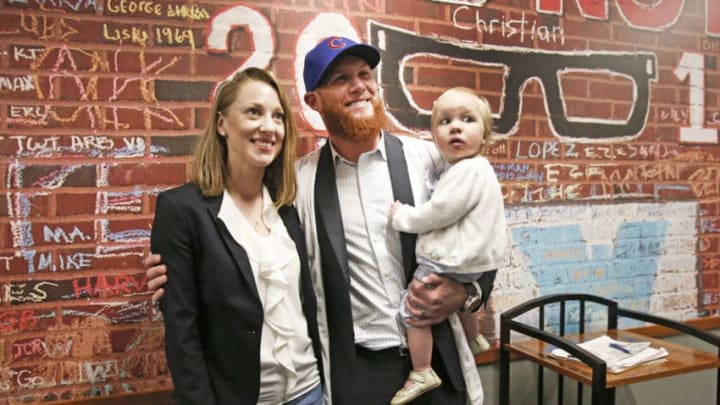 (Photo by Nuccio DiNuzzo/Getty Images) /
The Chicago Cubs are getting closer to having Craig Kimbrel in their bullpen, but just not quite there. After having a perfect inning on Tuesday, he's scheduled to throw Friday.
The Chicago Cubs haven't set a 'schedule' for Craig Kimbrel to get back to Chicago. They're allowing him to pitch at Triple-A Iowa, see how he feels after each outing and go from there. Kimbrel wasn't a couch potato while he was waiting to be signed. He was throwing and lifting, so he's likely not that far out. But for Kimbrel, he has to know what his body is telling him.
""I'm ready," Kimbrel said Thursday afternoon at Principal Park. "I'm ready to do it, but I also have to listen to myself, listen to my body. This isn't about the next couple of games before the (All-Star break). This is about after the break and into the postseason." h/t Tommy Birch, Des Moines Register"
You already have to like Kimbrel. 'This is about after the break and into the postseason.' He's speaking it into existence. There's no 'I hope I can do my part and get the Cubs to the playoffs.' No sir. He's already got his eyes on the prize. And Kimbrel could be a critical piece as to how we get there.
The seven-time All-Star has pitched to the tune of a 1.91 ERA over nine seasons. He's totaled 333 saves with a 90.7% conversion rate. With a career WHIP under one at 0.920 at a career SO/9 at 14.7, he's one of the best in the game.
Last season, per Fangraphs, Kimbrel saw his fastball velocity dip a bit from 98.6 in 2017 to 97.5 last year. His walk rate increased as well, from 5.5% to 12.6%. He also saw his hard contact percentage drop from 391% to 27.1%, and his soft jumped to 21.2%, his best since 2011 with the Atlanta Braves.
What does all this mean? He might not be as 'nasty' as he once was, but he's still one of the top closers in all of baseball until he shows otherwise.
With Adbert Alzolay getting the call for Thursday, the apparent move for when Kimbrel is ready is Rowan Wick. I was starting to question Brad Brach, but he's had a few appearances that have redeemed him, at least for the time being.
Adding Kimbrel to the end of the bullpen immediately makes the Cubs better. Now we have to figure out what's going on with Pedro Strop and we can get on with it. He's been injured off and on the last few years, and it has to be wondered if it's starting to take its toll.
Carl Edwards Jr. is also on the IL. So when he's ready, it might bet interesting out in the bullpen. There's going to be an odd man out somewhere. And if Brandon Morrow does make his return this year? That's gravy, as I don't think anyone is expecting it. But its another piece in the Chicago Cubs' bullpen that will have to be moved.