The 1998 Chicago Cubs excited us all, for an array of different reasons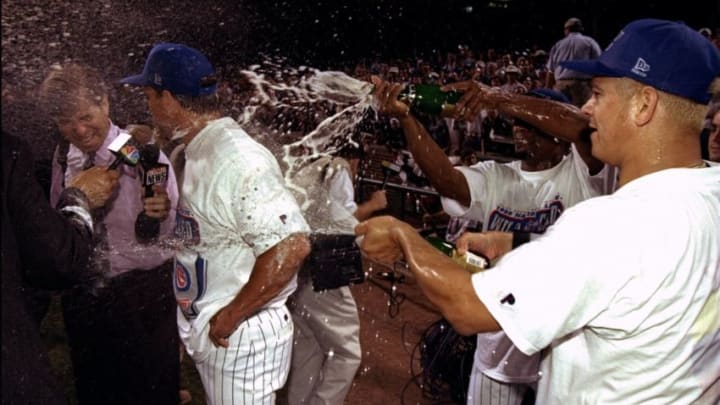 28 Sep 1998: Members of the Chicago Cubs celebrate a victory over the San Francisco Giants by showering their manager Jim Riggleman with champagne following a game at Wrigley Field in Chicago, Illinois. The Cubs defeated the Giants 5-3. Mandatory Credit: /
Mandatory Credit: Tom Hauck /Allsport /
Chicago Cubs: This season will live forever in the memories of many.
The 1998 Chicago Cubs will be remembered for the individual performances more than anything else. It was a blast for those who watched even if the team itself was not World Series-worthy. All this, despite the fact the 90 wins by that team was at the time the third-most by any Cubs team since 1969.
Things kind of "evened out" so to speak in 1999 when they lost 95 games. Losing Wood for the year did them no favors, but the rest of the pitching squad really struggled and other veterans started declining. Many of the breaks they got in 98′ did not come to fruition in 99′. Chicago would not enjoy another winning season until 2001 and a playoff berth until 2003.
In the end, Cubs fans should always have a special place for the 1998 team. They played hard and had fun. It is a great season to play "on this date" trivia games as so many cool things happened that year.