Chicago Cubs: The Heroes of Wrigley Series presents Aramis Ramirez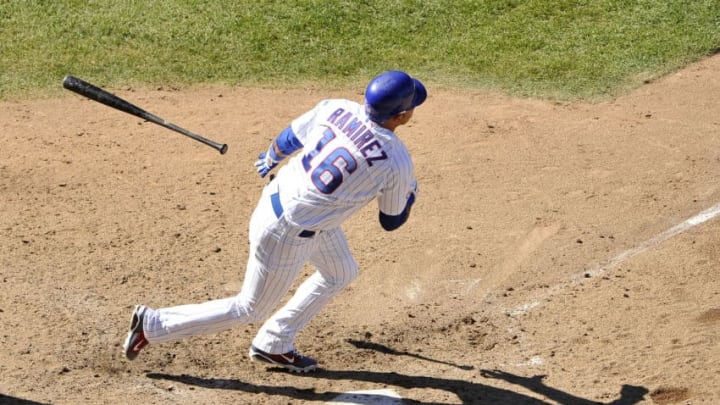 CHICAGO, IL - AUGUST 25: Aramis Ramirez #16 of the Chicago Cubs hits a double during the eighth inning against the Atlanta Braves at Wrigley Field on August 25, 2011 in Chicago, Illinois. Ramirez was 2-4 and extended his hitting streak to 14 games. The Braves defeated the Cubs 8-3. (Photo by Brian Kersey/Getty Images) /
(Photo by Jonathan Daniel/Getty Images) /
Chicago Cubs: Aramis Ramirez shows that Pittsburgh's greatest mistake was Chicago's great steal.
Ramirez enjoyed great success in his first season in Milwaukee.  He led the league with 50 doubles, adding an additional 27 home runs and 105 RBIs, once again cruising to a cool .300 batting average.  Perhaps most enigmatic of all that season, the aging Ramirez had the best defensive season of his career, finishing in the top five for the National League Gold Glove honors.
By the time the 2013 season rolled around, it became quite clear that 16 years in the Majors rapidly began to take a toll on his body and was constantly side-tracked by various injuries, limiting him to only 92 games, hitting .283 with 12 home runs and 49 RBIs.
His injuries followed him and carried over into the 2014 season but still managed to be named a starter for the National League All-Star team before missing the majority of the second half.  Playing in only 131 games, he remained consistent with his bat, hitting .285 with 15 home runs and 66 RBIs.
Knowing the end was nigh, Ramirez announced during Spring Training he would be retiring after the season, making 2015 his last year.  While not the offensive threat he once was in his prime, his veteran presence was still warranted in a clubhouse.  After 81 games with the Brewers, Milwaukee traded Ramirez to the Pirates before the July trade deadline, fittingly ending his journey where it all began.
Ramirez ended his career with 386 home runs, 1,417 RBIs, and an accumulative batting average of .283.  Most of that damage was done as a member of the Chicago Cubs, where Ramirez enjoyed the peak seasons of his career.  He ranks among the top in many of the franchise's all-time offensive categories, including 6th in home runs (239) and 12th in RBI (806).
Ramirez was a key part of the Cubs for nearly nine seasons.  He loved the city, remained loyal, fought through the pain and injury to play for us, and showed us time after time, what an exciting, clutch player he was during his tenure in Chicago.  He remains a fan-favorite to this day with fans still donning his No. 16 jersey at Wrigley Field, even after eight years since he last wore a Cub uniform.