Chicago Cubs: The Heroes of Wrigley Series presents Aramis Ramirez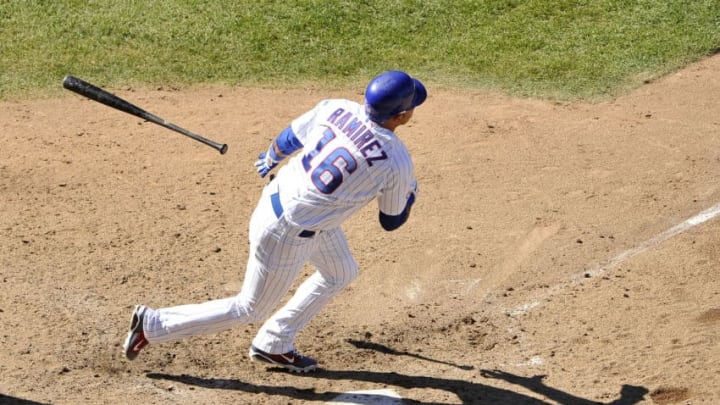 CHICAGO, IL - AUGUST 25: Aramis Ramirez #16 of the Chicago Cubs hits a double during the eighth inning against the Atlanta Braves at Wrigley Field on August 25, 2011 in Chicago, Illinois. Ramirez was 2-4 and extended his hitting streak to 14 games. The Braves defeated the Cubs 8-3. (Photo by Brian Kersey/Getty Images) /
(Photo by Jonathan Daniel/Getty Images) /
As one of the greatest mid-season trade acquisitions for the Chicago Cubs ever, Aramis Ramirez enjoyed a tenure spanning nearly nine seasons in Chicago, becoming one of the most exciting and beloved players in franchise history.
Aramis Ramirez signed with the Pittsburgh Pirates in 1994 out of Santo Domingo, Dominican Republic.  By 1996, he was already an All-Star in Single-A Erie at the age of 17.
Trailblazing through Pittsburgh's minor league system, Ramirez proved to be the organization's top prospect, winning the Carolina League MVP during his 1997 season, slugging 24 home runs and driving in 114 RBIs.
After the offseason departure of third baseman Joe Randa, the Pirates called up Ramirez in May of 1998 to fill the void at the hot corner.  The 19-year-old struggled, hitless in his first 24 at-bats against Major League pitching.  Ramirez was held to just 71 games, missing nearly an entire month with a separated shoulder.  He finished the season with six home runs, 24 RBIs and a sluggish .234 batting average.
Perhaps prematurely called up to the Majors, the Pirates relegating Ramirez to Triple-A after they acquired veteran third baseman and World Series hero, Ed Sprague in 1999.  He used that time to his advantage, demolishing minor league pitching and appearing in the All-Star Future's Game after belting 24 home runs, driving in 76 runs and possessing a staunch .328 average.
After Sprague left the team in free agency before the start of the 2000 season, Ramirez had another opportunity to prove his worth on a big league club.  However, after beginning the season with a mere .167 batting average, Ramirez would once again be demoted after appearing in just 18 games.  Back in Triple-A, he again overpowered minor league pitching, batting .353 with 26 RBIs.  Pittsburgh took notice and recalled him were he would add six home runs and drive in 35 RBIs before his season abruptly ended due to a dislocated shoulder.
In 2001, Ramirez finally came into his own, living up to the expectation that the organization saw in him.  He hit 34 home runs, drove in 114 RBIs while hitting .300.  He picked up right where he left off to begin the 2002 season before a plethora of injuries derailed his season.  He only managed to hit .234 with 17 home runs during his injury-plagued season, a far cry from his breakout season the year before.
The Pirates, growing tired of his inconsistency in the Majors, were left deciding if investing in Ramirez would be beneficial for the future of the organization.
As Ramirez enjoyed a quietly consistent campaign during the first half of the 2003 season, hitting .280 over the course of 96 games, it proved too little too late as the Pirates organization had to make the decision on whether to trade Ramirez or keep him and potentially pay him the $6M he would be owed next season.
The Pirates began making calls, shopping around the young third baseman.