Chicago Cubs: Healthy Bryant; Familiar faces in Spring Training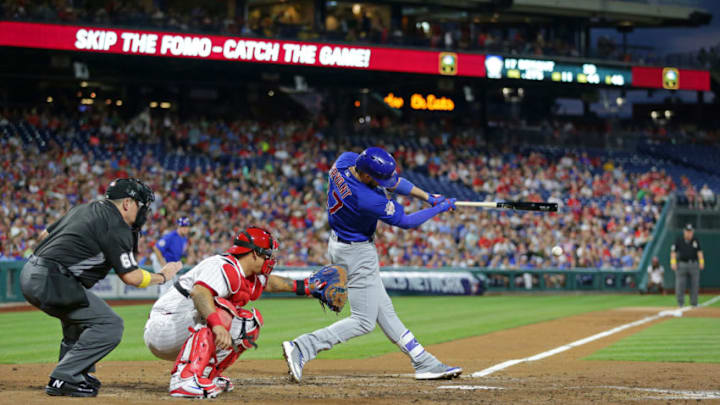 (Photo by Hunter Martin/Getty Images) /
 When your former Rookie of the Year and MVP struggles in performance and with injury, it's hard not to see it reflected in the team's numbers. So for the Chicago Cubs, a healthy Kris Bryant could make all the difference.
When the Chicago Cubs' Kris Bryant struggled last season, some started reading too much into it. First off, Bryant is not done. Pitchers haven't "caught up to him." He spent most of the year injured, and it became clear he wasn't going to be able to play through it. So Bryant spent more time on the disabled list last season than in his entire career. If Bryant can come back healthy, and with a swing that wasn't modified to protect him from pain–the Cubs offense should thrive again in 2019.
Spring Training is just over the horizon, and baseball fans have been ready for quite some time. Familiar faces and familiar places will fill the spring schedule. The Rangers will lead off the spring games, a place where Yu Darvish and Cole Hamels have spent some years. And don't forget Jesse Chavez, who was ready to retire if he didn't sign with the Cubs. He's back in Texas. Money talk, I suppose. The Cubs will close out the spring with an exhibition at Fenway against the Red Sox. This is, of course, the former home of Theo Epstein and Jon Lester, who had many successful years there.
You may have been following our Heroes of Wrigley Field pieces over the last few months. We've decided to cover some of the more 'underappreciated' players in Cubs history. So how did Mark Grace, one of our first Heroes of Wrigley also end up on this list? While the fans seemed to love Grace, he never really got his due from the media. Well, we're technically both–so he's getting it from us.
Cubs on Twitter
These and other stories you might have missed:
'A healthy Bryant will transform the offense' – Cubbies Crib
'Familiar faces and foes headline Spring Training' – Cubbies Crib
'The underappreciated Mark Grace' – Cubbies Crib
'Ranking the Top prospects for all 30 teams' – Bleacher Report
'Hendricks offers up suprising model for Hoerner's path' – Cubs Insider
Be sure to check back later today for more Cubs news and analysis! And follow us on our Twitter @CubbiesCrib, like our Facebook page for more Cubs conversation!