Chicago Cubs: Pat Hughes will grace the airwaves for years to come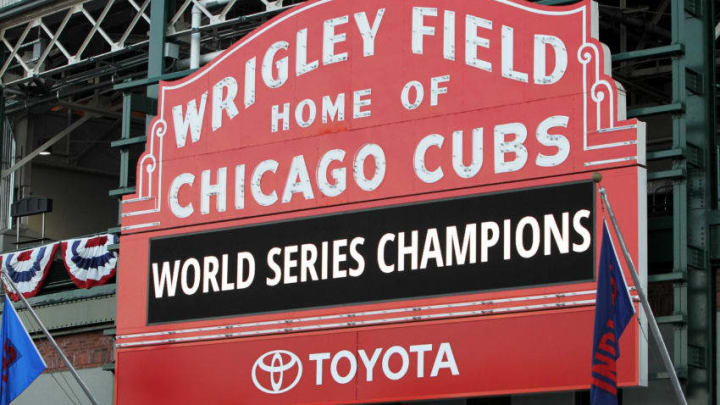 (Photo by Dylan Buell/Getty Images) /
While the Chicago Cubs have yet to make any big splashes to their roster in the offseason, they have locked up a first-class talent. Pat Hughes, one of the best in the business, will remain the radio voice of the Cubs for the foreseeable future.
The Chicago Cubs endured their fair share of change during the past two decades but have enjoyed the luxury of one constant, Pat Hughes calling games on the radio. Hughes has held his post as the radio play-by-play voice for the Cubs since 1996 and has no plans of slowing down.
The Cubs and 670 The Score announced a two-year extension for Hughes, with an option for a third year.
""I have every reason to think it will be a full three-year deal, I feel great," Hughes told the Chicago Tribune. "The Cubs give us total freedom, and we've had a playoff team for four straight years, and I hope many more in a row. And we have the best fan base on the planet. So I feel like, 'How much luckier can a guy be?'""
Hughes' legacy
Hughes, 63, has seen an ownership change, four different general managers and nine different managers come through the organization since he began calling Cubs games. Through it all, Hughes has displayed the utmost professionalism and continues to have one of the most iconic voices in the game.  He's called terrible teams, great teams and of course got the chance to call the final out of the World Series in 2016 – a call that will live on for generations to come.
In 2014, the voice of the Chicago Cubs became just the third sportscaster inducted into the WGN Radio Walk of Fame and has accumulated seven Illinois Sportscaster of the Year awards during his tenure. While already accomplished, Hughes will undoubtedly collect many more awards (and possibly a spot in Cooperstown) before it's all said and done.
The Pat and Ron show
Hughes will always be remembered for calling the World Series, but his work with Ron Santo isn't far behind. Santo and Hughes called games together from 1996 to 2010. Immediately, Hughes had unique chemistry with the Hall of Famer. Their was never a dull moment in a Hughes and Santo broadcast.
Hughes will often tell stories about his time with Santo, and the two developed such a close bond that when Santo passed away from bladder cancer in 2010, Hughes delivered a eulogy. Hughes now works alongside Ron Coomer (another former Cub).
Many question marks remain for the Cubs' Opening Day roster in 2019, but fans can find solace knowing that a familiar voice will continue to call Cubs baseball for years to come.