Chicago Cubs: The team could keep its young outfield intact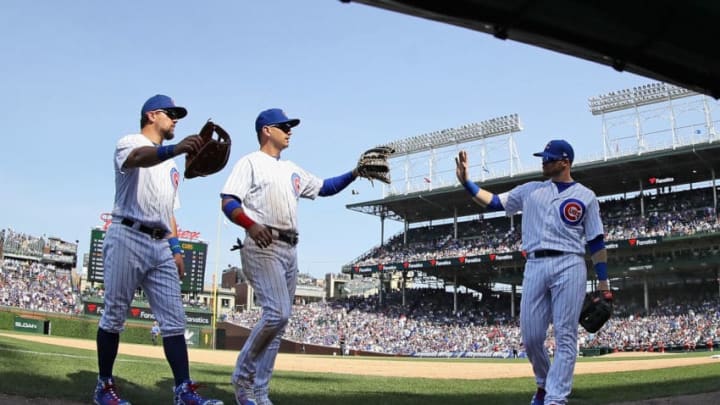 (Photo by Jonathan Daniel/Getty Images) /
Chicago Cubs /
Chicago Cubs: Losing their value
Epstein can talk all he wants about a metaphorical ax to grind, but the fact is that he has always been reluctant to deal especially Schwarber. And, recently Jed Hoyer reiterated this support for Schwarber, responding to a FanGraphs article that assessed Schwarber's lack of clutch performances:
""I think you just like pinpointed the nature of clutch and un-clutch, right? The guy that made his mark being incredible in the postseason for two years then struggled in big spots, so it's not like a guy that's shrinking from the spotlight.""
And although Happ hit nine fewer home runs and posted a 36.1 percent strikeout rate in 2018, Hoyer also suggested that such was natural given his youth and that he had to learn on the fly, having spent just 26 games in Triple-A before being called up:
""Like a lot of guys (after) the breakout rookie year, obviously, the league made some adjustments to him, and I think we saw good signs of him starting to make those adjustments.""
The front office, as well as Joe Maddon, have often voiced their praise for the attitude and development of their young players, and of course, Maddon certainly loved to rotate Schwarber, Happ and Almora and platoon them against right- and left-handed pitching. But this lineup flexibility may have done more harm than good.
While Schwarber drew more walks, he also hit four fewer home runs and two fewer doubles than he did in 2017, despite having the same slugging percentage and posting a higher average exit velocity, according to MLB StatCast. But how many teams believe in Schwarber as a two-way player, and is he really valuable enough to warrant a decent return if he is just going to be a DH?
Happ's value soared after his rookie campaign, but after an extremely disappointing 2018 in which the power numbers dipped and the strikeouts rose, where does he stand with other executives?
And while Almora certainly has the defensive presence, he too saw a decrease in power, and his 89 wRC+ last year is hardly inspiring for someone still trying to establish himself as an everyday center fielder.
There is no question teams out there have interest in any and or all of the three youngsters, but the indications are that a potential return on any deal would be sufficient, especially because the Cubs' 28th-ranked farm system makes it hard to pair premium prospects along with any of these players.
Chicago Cubs: Don't expect much action
Because of the purported loss of value Schwarber, Happ and Almora have all suffered as well as Epstein's unwillingness to part with any of them unless for an immediate impact player, it is likely that all three will remain on the roster come next Spring.
All three could certainly see marked improvements next year, but many fans will wonder if the outfield logjam will negatively impact each player as it seemed to do (at least with respect to Happ and Almora) last season.