Chicago Cubs: Slow second half start has team looking for a spark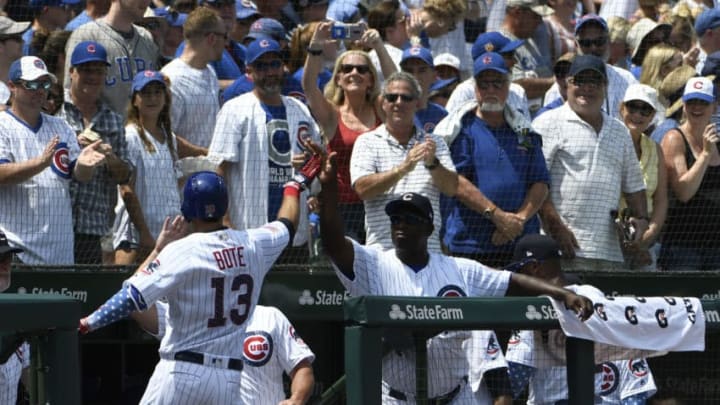 (Photo by David Banks/Getty Images) /
(Photo by Jonathan Daniel/Getty Images) /
The Chicago Cubs have a reputation as a second half team. Since 2015, they relied on late-season surges to put away rivals. Will that be the case again?
In 2015, the Chicago Cubs were seven games over .500  at the All-Star Break. From there, they went on a 54-25 run en route to the team's first postseason appearance since 2008.  The next season, though the second half wasn't as significant because of the quick start, they went 50-23.
Last year, the team faced an uphill battle heading down the stretch. Again, they answered the call, going 49-25.  However, this year as of Aug. 8, they are just 8-8 – a record that's certainly not the harbinger of a great second half. So what factors are contributing to the second half struggles?
An inconsistent offense
It is true the Cubs are among the leaders in the National League in a number of offensive categories. But this belies a season-long streaky offensive performance.  For example,  in the 17 games before the All-Star Break, the Cubs scored 6.8 runs per game and batted .310 with runners in scoring position.  But from then through Aug. 7, the Cubs scored 4.3 runs per game and have batted just .248 with RISP.
Additionally, the Cubs have scored three or fewer runs in 47 of 109 games and are 12-35 in those contests.  At the opposite end of the scoring spectrum there are 15 games where the Cubs have scored ten or more runs and, in those games, the Cubs are undefeated.  In the 33 games where they have scored five or more runs, they are 22-11.
There are long stretches where the Cubs score three or fewer runs, then bursts of scoring, followed by another drought.  While this on-again; off-again offense is producing satisfactory results in the regular season it will make for a short postseason.