Chicago Cubs: Early All-Star voting pretty spot-on as far as the Cubs go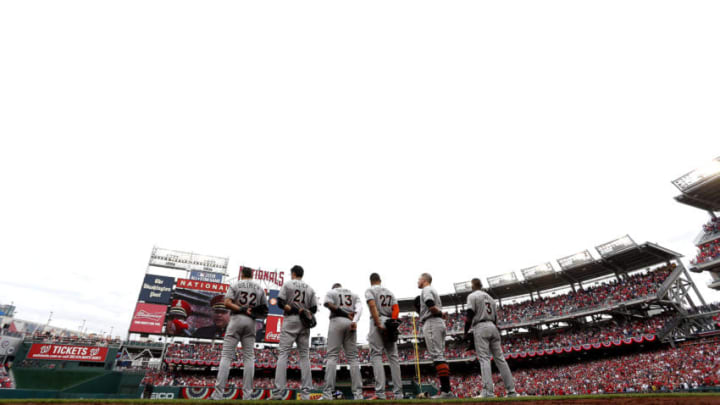 (Photo by Matt Hazlett/Getty Images) /
(Photo by Matt Hazlett/Getty Images) /
Despite what some fans may think, there's not a Chicago Cubs player deserving of starting the All-Star Game in D.C. next month.
Before we delve into the early returns in the voting for next month's All-Star Game, know this. The way the Chicago Cubs dominated the National League roster two years ago? That was a culmination of national excitement over the prospect of the franchise finally winning that elusive World Series championship.
Without said excitement – the Cubs stand literally no chance of such an event transpiring again. Know that. Accept it. And move forward.
If the Midsummer Classic were held tomorrow, no Cubs player would have earned a starting spot on the roster. That being said, several currently sit as runners-up in their respective positions – including Willson Contreras, Javier Baez, Anthony Rizzo and Kris Bryant.
Why aren't they in the lead, you might ask? Well, for multiple reasons. 1) The players ahead of them in voting have played better so far this season. You might not like to hear that, but, for the most part, that's the case. Plain and simple. 2) You're not voting enough. Same rules apply to the All-Star Game as presidential elections. If you are able, but don't vote, don't complain.
Contreras battling traditionalists – and an all-time great
Let's start with Contreras – the Cubs' young fiery backstop. There's no doubt about his abilities – with the bat or behind the dish. While he leads all catchers in OPS, he faces a tall task in unseating San Francisco Giants backstop Buster Posey. Posey has put up very solid offensive numbers, slashing .294/.365/.431 – numbers largely in-line with Contreras.
But the simple truth is outside Chicago, if you ask a semi-casual fan to name top catchers in the game, Posey has the name recognition that usually proves invaluable in fan voting. That, coupled with the fact that Contreras isn't driving the ball out of the yard like he did down the stretch last year and he could very well wind up on the outside looking in when the dust settles.