Chicago Cubs: Middle relievers are in the middle of it all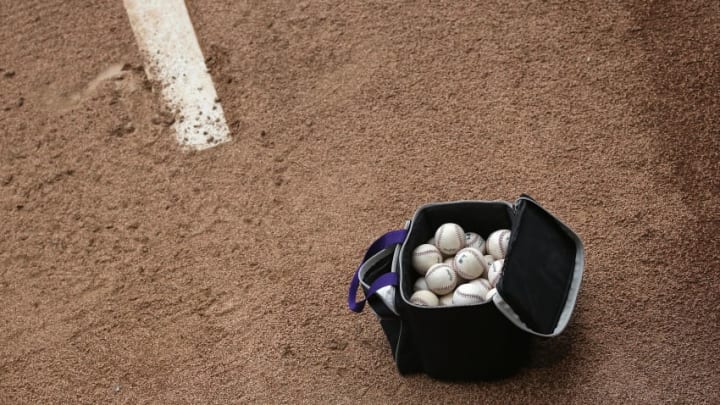 DENVER, CO - APRIL 25: A bag of baseballs sits on the mound in the bullpen as the Pittsburgh Pirates prepare to face the Colorado Rockies at Coors Field on April 25, 2016 in Denver, Colorado. (Photo by Doug Pensinger/Getty Images) /
Usually, the average fan knows the closer and the setup men in the bullpen, and brush the middle relievers aside, but the Chicago Cubs middle relievers are making fans take notice.
The Chicago Cubs went out and spent $22 million on Brandon Morrow to be the team's closer, and they already had Pedro Strop and Carl Edwards Jr. to lock down the late innings, but you can't be a World Series contender without bullpen depth
Thankfully, the Cubs have the talent to spare. Let's look at some of the names you may not be too familiar, but they have proven to be X-factors.
Steve Cishek
Okay, I'll admit it, Steve Cishek's name is relatively well known. He was the Marlins closer that converted 39 saves in 2014.
However, it appeared that he was on the decline after that great 2014 campaign, but thanks to Jim Hickey, Joe Madden, and a change of scenery has helped Cishek find his quality again.
In a team-leading 28 appearances in 2018, the side-arming righty has a win, a save, and a sparkling 1.73 ERA
Brian Duensing
When the Cubs resigned veteran lefty Brian Duensing to a two-year deal worth $11 million many fans were left wondering what the front office saw in him.
However, Theo Epstein and Jed Hoyer proved yet again why they are who they are, and why the fans aren't.
Thus far in 2018 Dunsing has a win and a shiny 1.93 ERA in 27 games. He has also shown the ability to get lefties and righties out in high leverage situations.
Depth has been key
To this point in the season, the starts have shown an inability to pitch deep into games consistently, that along with long drawn out extra-inning games has forced the Cubs to have a revolving door for some of the relievers at Triple-A Iowa.
Names like right-handers Cory Mazzoni and Luke Farrell and lefty Randy Rosario have each been a part of the revolving door in the bullpen. Each of them has been called up and sent down multiple times throughout the first quarter of the season.
Whether it has been for a single game or a week each one of them has proven the ability to get big leaguers out in critical situations.
They're more than good dancers
Face it, the days of a starter going nine innings and throwing 120 plus pitches are gone. As a mart of fact, it seems like the days of a pitcher throwing 105 pitches to get through innings are becoming fewer and further between. Having a sold section of middle relievers is becoming a must in the current age of Major League Baseball, and through the first quarter of the season, the Cubs have a sturdy bridge in between the night's starter and Brandon Morrow.