Chicago Cubs feature three Gold Glove Award finalists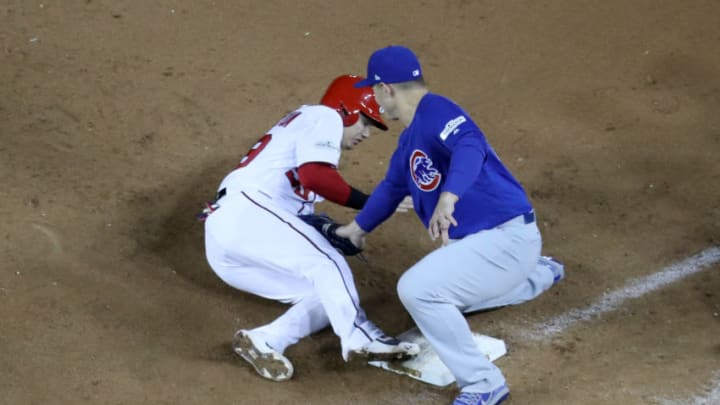 WASHINGTON, DC - OCTOBER 13: Anthony Rizzo /
Major League Baseball and Rawlings announced finalists for the Gold Glove Awards. The Chicago Cubs have three finalists, one of which is a bit of surprise.
As usual, MLB announced the three finalists, from each position, for the 2017 Rawlings Gold Glove Awards. Voting is done by managers and coaches with the winners announced on Tuesday, November 7. Voting has already concluded and only involves the regular season. Let's take a look at the Chicago Cubs three finalists and how they figured into the 2018 plans.
First Base
Anthony Rizzo is once again a finalist for the Gold Glove Award. Having won his first Gold Glove last year, Rizzo followed that up with another Gold Glove-caliber season. Having not committed an error since April 24th, Rizzo will start 2018 with a 138-game errorless streak. This alone should give him his second consecutive Gold Glove. The other finalists are Paul Goldschmidt and Joey Votto.
More from Cubbies Crib
Rizzo has always been known for his defense but seems to get better and better each year. Last year, Rizzo also won the Platinum Glove, which is awarded to best defensive player in the league. Rizzo could easily win both again this year and will head into 2018 looking to keep his errorless streak going. Goldschmidt and Votto, both two time winners, are solid finalists but Rizzo should be able to win it again.
Fifth time for J-Hey?
Another no brainer as Jason Heyward looks for his fifth Gold Glove. The other finalists, Yasiel Puig and Giancarlo Stanton, have never won it before. I find it very hard to see either of them beating out Heyward for the award.
Heyward just finished the second of his eight year contract with the Cubs and his defensive has been the main reason for keeping him in the lineup. Heyward takes a lot of heat for his lack of production at the plate, but he is working to improve his offense. Hopefully, a new hitting coach will get Heyward back on the right track.
Heyward did increase his batting average by nearly 30 points, slashing .259/.326/.389 compared to .230/.306/.325 in 2016. He also hit 11 home runs, which was up from the seven last year. Those numbers are an improvement. More of an improvement than most people thought.
Heyward figures to a huge part of the Cubs 2018 plans. He will continue to be in games because of his defense but might not start as many games if he can't get it together at the plate. He is a great clubhouse leader with an excellent work ethic.
A real head-scratcher
This is probably the most surprising and leaves many wondering "What about Baez?" It's no secret that Javier Baez's defense is superior to Ben Zobrist. However,  Zobrist is not as bad as one may think. While he did have a huge down year offensively, he was able to play multiple positions for the Cubs in 2017, yet still logged enough innings at second base to qualify. Zobrist has never won a Gold Glove and the other finalists Dee Gordon and DJ LeMahieu have each won one.
It's hard to see Zobrist winning this award but it's good that he is a finalist. The 36-year-old utilityman saw a huge drop off in 2017. A lot of that could have been due to the nagging wrist injury that was bothering him, but his slash line of .232/.318/.375 was a huge drop-off from .272/.386/.446 in 2016.
His strikeout rate was up will his walks were down. His 54 walks were the lowest of his career. With two more years on a contract, he will play actively in the 2018 plans. The Cubs can only hope he has a nice bounce back season at age 37.
Next: Cubs send message with coaching staff shakeup
So expect the Cubs to nab two Gold Gloves. Defense was not as strong in 2017 as it was in 2016 but with new coaches in place, expect a renewed focus on that heading into next season.