Chicago Cubs News: Bullpen implodes in 8th as Cards win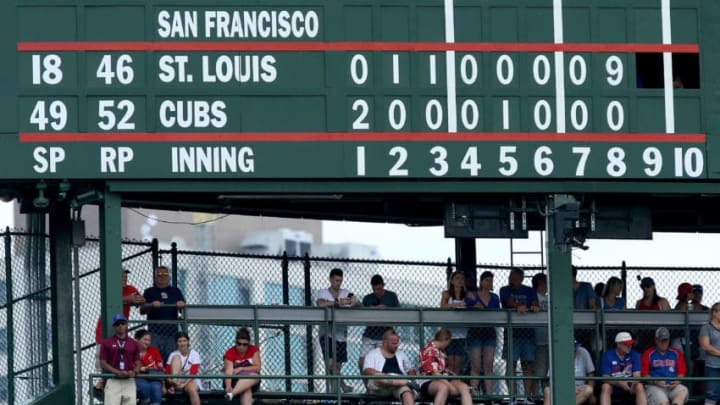 (Photo by Dylan Buell/Getty Images) /
Things were going along just fine until the eighth, and that's when the Chicago Cubs bullpen completely fell apart. They allowed nine runs as a one run lead ended in an 11-4 loss. This and more in today's Morning Marquee.
It's the kind of loss that you can chalk up to a bad game. That at least the hope of the Chicago Cubs bullpen. But what makes it worse is it was against the St. Louis Cardinals, making it harder to swallow. The Cubs pen has been fairly reliable, but this was the third game during the second half that the pen faltered. The Cubs won the last two, but this time it didn't work out that way. The Cards scored nine times in the eighth for the 11-4 win.
The bullpen had their issues on Friday, but Jake Arrieta continued a strong streak of starts from the rotation. That has lifted the Cubs to six wins in their first seven games and left them just one game back for the NL Central lead. The Cubs will look to Jon Lester to help start a new winning streak on Saturday.
The Cubs move to get Jose Quintana before the rest of the division had a chance to move could be vital to their chances. The Cubs not only improved this year's rotation but also looked to bolster next year's as well. And a side bonus of the move was keeping Quintana away from the Brewers. Now they're forced to look elsewhere, with a potentially higher price tag due to the what the Cubs gave up for Quintana.
These and other stories that you might have missed:
'Cubs pen unravels in 11-4 loss to Cards' – Cubbies Crib
'Starting pitching has been key to win streak' – Cubbies Crib
'Judge nearly leaves Safeco Field with HR' – MLB.com
'Cubs set the tone in NL Central trade market' – Cubbies Crib
'Rumors swirl linking Cubs to Darvish' – Cubbies Crib
#Cubs on Twitter
Be sure to check back later today for more Cubs news and analysis! And follow us on our Twitter @CubbiesCrib, like our Facebook page and follow us on G+!