Chicago Cubs News: A dramatic win to start the 2nd half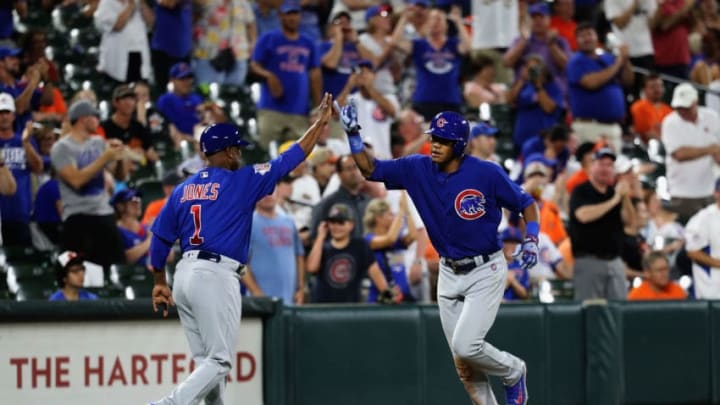 (Photo by Rob Carr/Getty Images) /
The Chicago Cubs picked up a win to start the second half. But the bullpen did all it could to give it away as the Cubs blew an eight-run lead before an Addison Russell home run helped win it in the ninth.
The Chicago Cubs bullpen has been one of the pillars of support in the first half. After the Cubs got off to an eight run lead, the pen slowly gave it away as the Baltimore Orioles eventually tied the game on a two-run home run by Mark Trumbo in the eighth. But an Addison Russell solo home run in the top of the ninth proved to be the difference in the 9-8 win.
Has Theo Epstein given us a reason not to trust him? No matter what you might think, the answer to that question is no. It's not been a superb follow-up to their World Series season, but it's far from over. The trade for Jose Quintana wasn't a rental, but a building block for the future. The Cubs had to give up something to get it, so why wait? Maybe we need to take ourselves down from the perch we've been on since last November and believe in him again. He ended a 108-year drought, yet some think he should be fired? Ugh.
When the Cubs traded Jason Hammel and Jeff Samardzija to the Athletics, Addison Russell was the corner piece of that deal. He pushed Starlin Castro over to second base, and eventually out of Chicago as the Cubs signed Ben Zobrist. But is he now off the untouchable list and a possible trade chip? There's been plenty of talk about Russell with the Cubs still "in" on Sonny Gray. Maybe Billy Beane is just trying to get even?
These and other stories you might have missed:
'Cubs hit five home runs, hold off O's' – Cubbies Crib
'Never ever question the Cubs' Epstein' – Cubbies Crib
'Surplus of talent will crown out someone' – Cubbies Crib
'Who are the 'other' prospects in the Quintana deal?' – Cubbies Crib
'Cubs are rubbing off on other fans' – Cut4
#Cubs on Twitter
Be sure to check back later today for more Cubs news and analysis! And follow us on our Twitter @CubbiesCrib, like our Facebook page and follow us on G+!