Chicago Cubs News
Chicago Cubs: How would it impact the city if Cleveland won Game 5?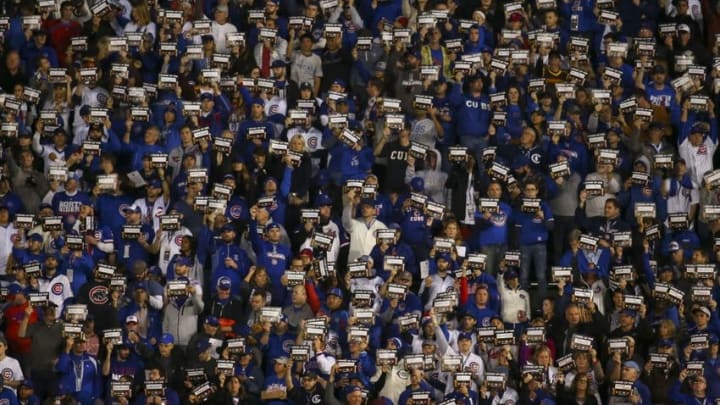 Oct 29, 2016; Chicago, IL, USA; Fans hold up "Stand up to cancer" signs during the fifth inning in game four of the 2016 World Series between the Chicago Cubs and the Cleveland Indians at Wrigley Field. Mandatory Credit: Jerry Lai-USA TODAY Sports /
The Chicago Cubs have very little time to improve their game in order to stay alive in the World Series. It has been an offensive struggle the past few days but today is a fresh start. Will they stay alive or watch Cleveland celebrate on their field?
For a few Chicago Cubs fans, literally, the pain of watching the Cubbies falter in the World Series was surely a heartbreaking scenario. However, it's a new experience to the rest of us.
While our confidence is through the roof with Jon Lester on the mound — one thought has to be sitting in the back of your mind.
What happens, better yet, how would the city of Chicago feel if Cleveland clinched the World Series at Wrigley Field? Remember when the New York Mets swept the Chicago Cubs on their own home turf last season?
More from Chicago Cubs News
A good chunk of the Wrigley faithful sat and watched Daniel Murphy and his Mets celebrate after winning the pennant. Not only did it light a fire under the Chicago Cubs, it made the fans and city stronger as a foundation.
Heading into the Cubs Convention, expectations were through the roof. Bringing in John Lackey and Jason Heyward, this Cubs team was already tabbed as World Series favorites. Something that was music to our ears.
What if?
If the Cleveland Indians manage to defeat Jon Lester for the second time this week then it's going to be the same result. Bringing this city together and preparing for next year with expectations not only going through the roof but being set higher than ever.
Our fanbase has been through a lot and watching the Chicago Cubs in a World Series has been a great feeling. Despite being down 3-1 to Cleveland, you have to realize that this is not a one-time thing, people.
The Chicago Cubs will be playing in the World Series again, in our lifetime. Possibly, more than twice if they can manage to stay healthy throughout the regular season. Could you imagine how this series would look like had Kyle Schwarber avoided that knee injury?
Next: Top home run hitters in Cubs history
Easier said than done but this lineup would be a whole lot better. Surely, it wouldn't make things easier on Joe Maddon considering the depth of his 25-man roster. Carrying a handful of pitchers but plenty of outfielders.
So win or lose, Cubs fans, just keep in mind that this is not our last rodeo. Yes, wanting to end that 108-year drought would be an amazing feeling and the series isn't over just yet.
But if our Cubs are on the wrong end of tonight's Game 5, keep this in mind — we will celebrate a World Series or two in our lifetime.