Chicago Cubs: Building a team the Epstein way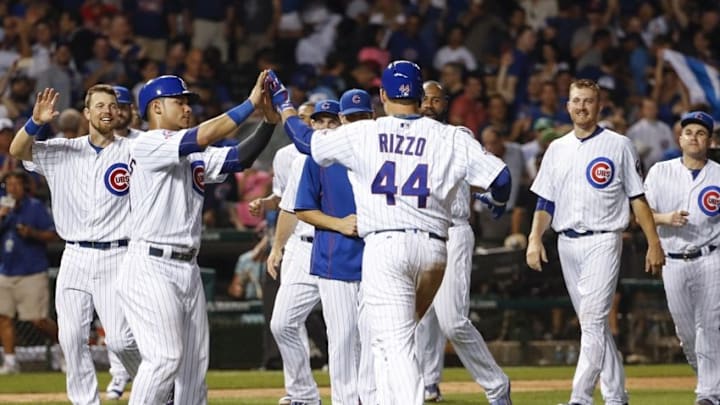 Aug 11, 2016; Chicago, IL, USA; Chicago Cubs first baseman Anthony Rizzo (44) celebrates with teammates after walk off walk against the St. Louis Cardinals during the eleventh inning at Wrigley Field. The Cubs won 4-3. Mandatory Credit: Kamil Krzaczynski-USA TODAY Sports /
For the Chicago Cubs, it's not just about dangling the most money in front of a guy. Theo Epstein goes a step beyond to put the people in place to create a winner.
He probably didn't know it then, but when 18-year-old Anthony Rizzo, then a member of the Red Sox farm club, met fellow cancer survivor Jon Lester in 2008, he changed the trajectory of the Chicago Cubs forever.
Rizzo was taken by the Sox in sixth round the 2007 draft. But he received third-round money. That was a big part of getting the 17-year-old out of high school and into the farm. Theo Epstein saw a superstar behind Rizzo's timid 6'3" 215-pound frame and wasn't willing to let him go.
Devastating news
A couple weeks before he met Lester, Rizzo's had problems with his ankles swelling during and after games. A couple of his teammates told him to get it checked out. When he did, he got the news no one wants to hear: He had Hodgkin's Lymphoma. Cancer.
More from Cubbies Crib
It's hard enough being a young kid in a professional locker room full of people you admire.Even harder when you have cancer.
Red Sox General Manager Theo Epstein introduced Rizzo to manager Terry Francona, who recently buried his wife after her bout with cancer went south. They talk about how the kid is tearing up the minors, rather than what lays ahead for Rizzo. In 21-games, he's hitting .373 with a .409 OBP.
Epstein spots Lester walking around the clubhouse and shoves Rizzo and his dad, John, and older brother, John Jr., in his direction.
Right now, he's scared. They're all scared. Lester shows them around the locker room, but John's mind isn't on the tour. He has miles and miles of questions funneling through his head.
When did you pick up a baseball again? How hard was it to return? What can I do? What should I …?
"I was like, 'Slow down,'" Lester recalls.
Advice in life, not just baseball
Lester talks to Anthony like he's any other athlete going through a tough situation. He went through six rounds of chemo before being declared cancer-free himself. Lester knows the dimensions of that park better than most.
He told him to tackle this like any other competition. You don't need to know the survival rate, just what needs to be done to win. Doubts will come naturally. All you can do is try to stay yourself. Keep doing the things that make you, you. For Lester, that's deer hunting, and hanging out with friends and family.
An hour or so later, they break up the meeting. Lester tells Rizzo that they'll see each other again, though he probably meant in Fenway Park.
Five years later, Rizzo and Epstein are in Chicago while Jon is still in Boston, at the end of his contract. Rizzo and Lester both made the All-Star teams that year. Before the game in Minneapolis, they share a quick exchange in the outfield during warm-ups.
Lester had the offseason to weigh his options. But was Lester influenced by Rizzo's pitch? Chicago is a good place, Rizzo tells Lester. The Cubs are a great organization. We could use you.
Next: Hendricks wins first ERA title
"Anthony's a big part of why I came over here," Lester says. "What we shared added the intrigue to it, knowing he wasn't just talking to me like, 'Hey, we would really like to have you as a pitcher.' It was other things–deeper things."
The Cubs have learned a lot about team building with Theo at the helm. In the locker room, they all get to share in Lester and Rizzo's special connection. Something that they can all bond over.