Chicago Cubs News: Cubs final regular season home game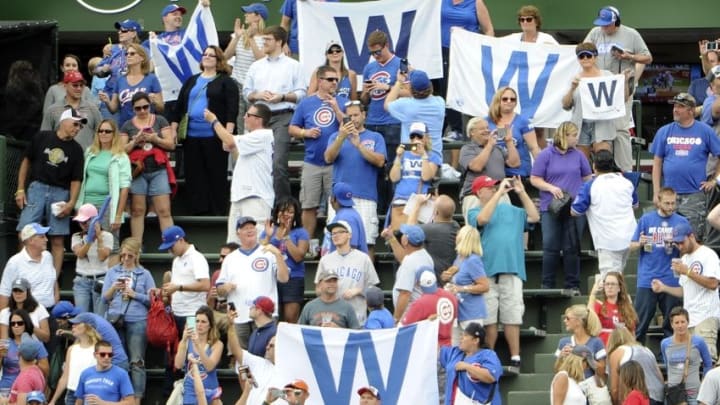 Sep 23, 2016; Chicago, IL, USA; Fans in the bleachers celebrate the Chicago Cubs win against the St. Louis Cardinals at Wrigley Field. The Cubs won 5-0. Mandatory Credit: David Banks-USA TODAY Sports /
The Chicago Cubs will play their final home game of the regular season today against the St. Louis Cardinals. But the day starts with sad news: Marlins pitcher Jose Fernandez was killed in a boating accident early this morning.
The baseball world woke up to devastating news today. Miami Marlins star Jose Fernandez died in a boating accident in the early hours, and the Marlins and Braves have canceled their game today. At just 24 years old, it was way too early to lose Fernandez. He defected at Cubs at just 15, played high school ball in Tampa and worked his way into a top pick in the draft. Our thoughts and prayers are with the Marlins organization in this terrible time.
The Cubs will finish up their regular season at Wrigley Field today, and have already locked up home-field advantage through the playoffs on the National League side. The Cubs have been strong at home, and the home-field advantage could be a key to their chances at ending the drought.
The playoff roster continues to be a question, and the final week to figure it out has arrived. Cubs manager Joe Maddon and his staff have had preliminary meetings to start the process, but it won't be finalized until after the season finishes. Until then, we offer our early prediction for the NLDS roster.
Next: Can Heyward be clutch in October?
Several teams are vying for the Wild Card spots. Should you be pulling for one team over another? Our Robbert Davis believes you should be cheering for..*gulp*..the Mets. Many fans might find that to be difficult, but there's a solid reason behind it.
Here are the stories you might have missed:
'Marlins pitcher Jose Fernadez dies in boating accident' – ESPN
'Cubs home-field advantage could be the best' – Cubbies Crib
'Predicting the Cubs playoff roster' – Cubbies Crib
'Cubs should cheer for the Mets as the WC' – Cubbies Crib
#Cubs on Twitter
Be sure to follow us on Twitter and like us on Facebook, as well as check back later for more Cubs news. We'll have an interview with ESPN's Aaron Boone as well as other coverage from today.