Chicago Cubs: Great Cubs team of all time tournament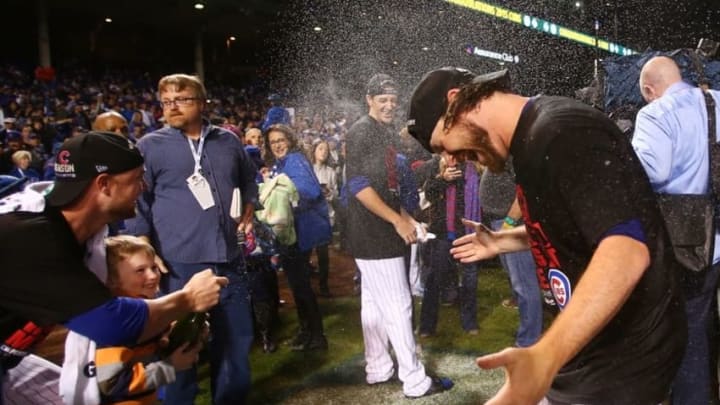 Oct 13, 2015; Chicago, IL, USA; Chicago Cubs relief pitcher Travis Wood (right) is sprayed with champagne by Jon Lester after defeating the St. Louis Cardinals in game four of the NLDS at Wrigley Field. Mandatory Credit: Jerry Lai-USA TODAY Sports /
Mandatory Credit: Dennis Wierzbicki-USA TODAY Sports /
1935 versus 1929
This truly may be the best match-up of them all: (#4) 1935 versus (#5) 1929.
The team from 1935 featured some great names, and a few we see in 1945. Cavarretta was in his first full season, but the roster included MVP Gabby Hartnett at catcher, Billy Herman at second, Stan Hack at third, Augie Galan and Frank Demaree in the outfield, and two 20-game winners in Lon Warneke and Bill Lee. Not sure about the names? How about the team finishing 100-54 while scoring 847 runs. What really made the team special was the 21 game win streak at the end of the season to put the team in the World Series.
But, then, you have 1929. All we really need to say is one name: Rogers Hornsby. His stats: .380/.459/.679 with 39 home runs, 149 RBI, 229 hits. Simply one of the best players ever. But that is not all. Hack Wilson was almost as good with .345/.425/.618 split and 39 HR and 159 RBI. The team scored 982 runs. It was an offensive monster, leading to a record of 98-54.
Both teams lost the World Series, and the records are close. But, which team goes on to the next round?
Next: Round 1 Rules