Chicago Cubs All-Time Lists
Chicago Cubs: Great Cubs team of all time tournament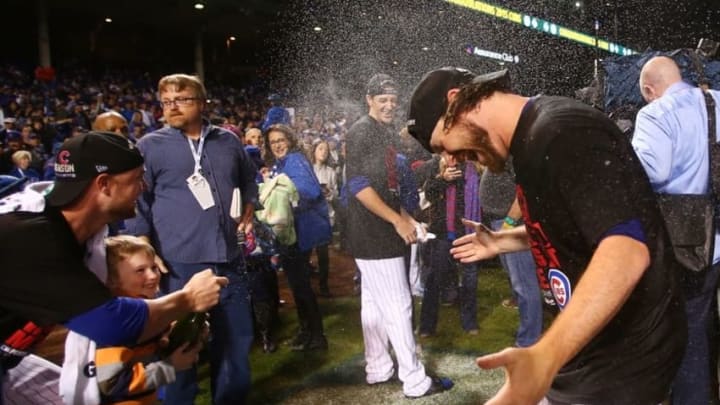 Oct 13, 2015; Chicago, IL, USA; Chicago Cubs relief pitcher Travis Wood (right) is sprayed with champagne by Jon Lester after defeating the St. Louis Cardinals in game four of the NLDS at Wrigley Field. Mandatory Credit: Jerry Lai-USA TODAY Sports /
cubs_mascot_1908_01_27_12 /
1906 versus 1908 battle for the top seed
It is extremely difficult to choose a Chicago Cubs team from 1906-1910, so we had to pick two. The rosters did change from year to year, but two things were true: Frank Chance was the manager and the team won.
But why did we pick these two teams?
The 1906 Chicago Cubs won 116 games, the best in Major League Baseball history. While this was tied by the 2001 Seattle Mariners, the Cubs played 10 less games. However, they lost the World Series in six games.
While winning the fewest games (99) during these dynastic years, we talk about the 1908 Chicago Cubs today since this was the last team to win the World Series. For that reason, we put them above the 1907 team (107 wins, lost WS), 1909 (104 wins, no playoffs), and 1910 team (104 wins, lost WS). In a bracket to see which team is best, the last team to win a championship must be included.
So which one is best? The 1906 Cubs won the most games, scored 704 runs while only giving up 381, never lost more than 3 games in a row, and ended the season 80 games above .500. But, they lost the World Series. The World Champion 1908 team has a great second half of the season (54-23) to lead them to the playoffs to finish one game above the New York (baseball) Giants. The 1906 Cubs won the NL by 20 games over the Giants.
It comes down to this: does the record or the World Series mean more?
Who wins the top seed in our tournament?
Next: Wild Card Teams