Chicago Cubs minors recap: Theo Epstein's prospect legacy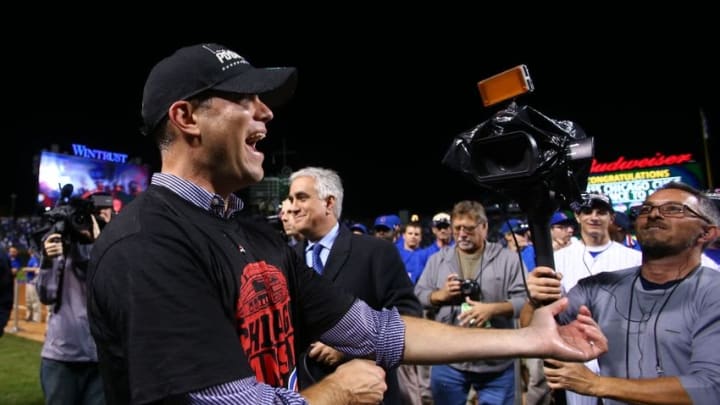 Oct 13, 2015; Chicago, IL, USA; Chicago Cubs president of baseball operations Theo Epstein celebrates on the field after defeating the St. Louis Cardinals in game four of the NLDS at Wrigley Field. Mandatory Credit: Jerry Lai-USA TODAY Sports /
While the dog days of August chug along, the Chicago Cubs are hitting their stride. In less than a month, MLB rosters will expand allowing the next crop of young stars to taste the show. Over the course of a season, every move is studied and scrutinized. It is in those moments, unfortunately, that many good executives are burned. We will examine the curious signings of Theo Epstein and how it has come to define his tenure in Chicago on this week's The Call-up.
Since joining the Cubs in 2011, it seems like everything Theo Epstein touches turns to gold. It's all about context and perception. Cub fans were so desperate for direction, it's no wonder they quickly latched onto the young, confident, and more importantly proven Epstein.
Baseball is a crap shoot of sorts. Scouts can prepare and project but no one will truly know what they have until it arrives…or doesn't.
The minor league system was traditionally weak in the final years of the Jim Hendry era. Most fans can recall the "untouchable" prospects like Corey Patterson and Felix Pie. Prime examples of the unknown, and while the Cubs sat on their assets, the Major League squad ultimately paid the price.
It seemed as though each call up meant a home run for Theo and Cubs' GM Jed Hoyer. Kris Bryant, Anthony Rizzo, Kyle Schwarber, Jorge Soler, Addison Russell, Javier Baez, and Willson Contreras. Out of a prospect pool, some would hope that two or three would hit. In the case of the Cubs, so far all of them have.
More from Chicago Cubs Prospects
Let us not forget the trade of 2013 that brought Jake Arrieta and Pedro Strop to Chicago in exchange for Scott Feldman and Steve Clevenger. The Cubs also received two international signing bonus slots with the deal. That money would go on to sign Eloy Jimenez, who just wowed at the Futures Game this year. History may prove this to be one of the greatest trades in Cubs history.
For all of the gains, it's not to say there haven't been a few duds in there. The increased expectations on this team means that each poor decision will be viewed under a microscope. The best example of this would be the move to have Brian Matusz start instead of Kyle Hendricks.
Working his way back to the Majors, Matusz fell out of favor in Baltimore after a slew of injuries and a lengthy suspension. After being traded to Atlanta, the Braves designated him for assignment. The Cubs scooped him up hoping to cash in on his rehab.
Making his first start in almost four years, Matusz took the mound against the Mariners in a nationally televised game. In three innings of work, the former first-round pick gave up six earned runs including three home runs.
The Cubs ultimately released him the following day. The crowd was visibly upset, and perhaps for good reason. Many questioned the move to start an unknown in the midst of a playoff race. Luckily for the Cubs, they came back to win the game in dramatic fashion.
Despite the metaphorical strikeout, it is that type of move that built the Cubs to where they are. Theo has thrived on taking diminishing talent and squeezing every drop to get value in return. Who could have possibly known that a deal involving an over-achieving Jason Hammel would net a top prospect like Addison Russell?
The moves have been all around us in the form of Trevor Cahill and Joe Nathan. Even a guy like David Ross fits the billbecause guys like this serve a specific, but much-needed purpose. They help solidify the young core and provide experience in the uncharted waters the Cubs are about to enter.
The Cubs minor league system is as strong as it's ever been, and there are dozens of players still working in hopes of being that next home run pick.
Minor League Recap:
Iowa Cubs (50-66) 4th place in the Pacific Coast League American Northern Division
Last Week: (4-3), This Week: vs. Oklahoma City Dodgers August 7th-10th, @Fresno Grizzles August 12th-13th
Tennessee Smokies (18-24) 4th place in the 2nd half of the Southern League North Division
Last Week: (4-3), This Week: vs. Montgomery Biscuits August 7th-9th, @Pensecola Blue Wahoos August 11th-13th
Myrtle Beach Pelicans (27-17) 1st place in the 2nd half of the Carolina League Southern Division
Last Week: (7-0), This Week: vs. Carolina Mudcats August 7th, vs. Salem Red Sox August 9th-11th, @Carolina Mudcats August 12th-13th
South Bend Cubs (28-15) 2nd place in the 2nd half of the Midwest League Eastern Division
Last Week: (5-2), This Week: vs. Great Lakes Loons August 7th-9th, @Dayton Dragons August 11th-13th
Eugene Emeralds (5-5) 2nd place in the 2nd half of the Northwest League Division
Last Week: (3-1), This Week: vs. Vancouver Canadians August 7th-8th, @Salem-Keizer Volcanoes August 9th-11th, @Spokane Indians August 12th-13th