Chicago Cubs: Interview with ESPN Baseball Tonight host Karl Ravech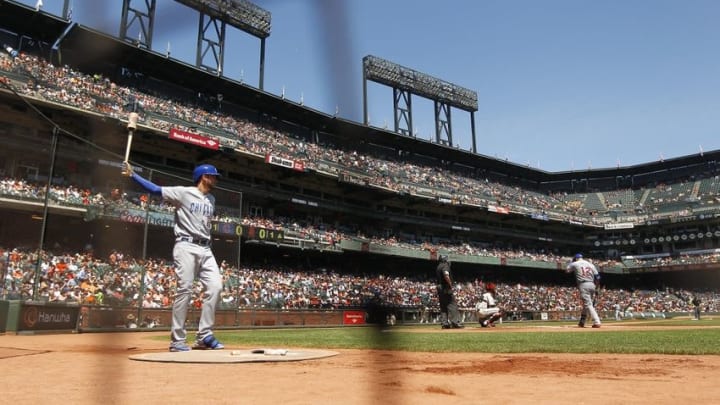 Aug 27, 2015; San Francisco, CA, USA; Chicago Cubs infielder Kris Bryant (17) warms up in the on deck circle against the San Francisco Giants at AT&T Park. Mandatory Credit: Cary Edmondson-USA TODAY Sports /
ESPN BBTN host Karl Ravech talked Chicago Cubs baseball with us ahead of ESPN's Sunday Night Baseball telecast of the Giants v. Cubs game tomorrow night. The Cubs bullpen, the Giants rotation and Jason Heyward's injury are just a few of the topics discussed.
I had the opportunity to talk with ESPN Baseball Tonight host Karl Ravech about the Cubs vs. Giants series and the potential playoff implications it may have even this early in the season. Ravech joined ESPN in 1993 and has been the primary host of Baseball Tonight since 1996. He's a baseball man from the kids (Provides commentary for the Little League World Series in Williamsport, PA as well as the College World Series) up to the big leagues.
They are the unequivocal baseball story of the summer.- Karl Ravech
Nicholas Blazek: Big series between the Cubs and Giants this weekend. Let's go right after the elephant in the room with Jason Heyward's injury. How big a loss could this potentially be for the Cubs?
Karl Ravech: Well, it's potentially huge given his defensive abilities and the idea that they lost Schwarber earlier. He just does so much for that team, he lengthens the lineup. But defensively he's been great. They lead the league in defensive runs saved in the outfield, in the infield, the pitching position, the catching position they've combined to lead the league in defensive runs saved and there's no doubt that their pitchers benefit from it. From Heyward's arm to his ability to cover ground out there, I would say if it's a long-term injury it's a very significant one to them.
NB: It was a spectacular play by Heyward, and going back to the Nationals series when Bryce Harper pulled up short saying he wasn't going into another wall. Is each player different, or should Heyward have "pulled up"?
KR: I don't think anybody intends to go into the wall, I certainly think he stumbled a little bit and ended up the way he did. I think if Harper was given a similar situation it's impossible for athletes to stop. I don't think that's something they consider when they can catch that ball, and clearly Heyward could catch the ball. I think when Bryce says that it's more of a mentality of I'm not going to go out and kill myself if I can't get to a ball because I'm far more valuable on the field than I am hurt. I think in Heyward's case Harper would have went for that ball too.
NB: The Giants are dealing with the loss of Pablo Sandoval, the Cubs' and Schwarber as you mentioned. Does the versatility of the Cubs help them to get past these injuries given what Ben Zobrist can do, Javier Baez and his ability to play the outfield and of course Kris Bryant?
KR: I would be reluctant to move Kris Bryant to the outfield, but look, Joe Maddon has juggled the lineup since he's been a manager. Having interchangeable parts is one of the secrets to their success and Zobrist is an excellent example of that. The idea that Jorge Soler is one of your guys to call on to play speaks to the depth of the Cubs and their quality. Look, Schwarber is done. If Heyward is out for any period of time you've now lost two starting outfielders from Opening Day. There are not many teams that could lose corner outfielders and continue to succeed. But I believe the Cubs are one of them because their pitching is so good, their offense is so good and balanced. I've maintained all year since we started back in March that this was going to be the Summer of the Cubs, and come July, August, September everybody's talking about the record that they're on, the run differential, the pitchers—Arrieta breaking the curse–I still think that's the case. But if he were in fact hurt for a while you've lost two of your three starting outfielders, but they are definitely the team positioned to deal with better than any other in baseball.
NB: Speaking of pitching–the Giants back end of the rotation has struggled. Jake Peavy last night, Matt Cain has had his issues. Do you think this could be an issue for the Giants going forward?
KR: I try to think that they're the best team in the NL West, they're better than the Dodgers I think on everyday that Clayton Kershaw doesn't start, so if you can parade Cueto and Bumgarner out there and hope that you can solidify the back end of the rotation they're gonna be okay. I think that their offense and defense rivals the Cubs. There are really no holes in that lineup offensively. They catch the ball tremendously well. To me, the Cubs have an Achilles heel in the middle of their bullpen, the Giants in the back of the rotation but there is so much to like about San Francisco that I think in the case of their four or five pitchers–I still have some faith that Matt Cain is going to be able to find it—assuming he's not injured–that the balance of their offense, with Bruce Bocce managing that they'll be able to stay in that race if not win that division. And again, get into a five game series and you get Bumgarner, or get into a seven game series and you've got those two guys? They're pretty legit.
I think we've come down to it already that the Cubs, Giants, the Nationals and the Mets, and maybe one of the NL Central teams–probably the Pirates–are really the five teams to beat. I think San Francisco is in that conversation in spite of the struggles of Cain, in spite of the struggles of the rest of the staff.
NB: Do you think bringing back Tim Lincecum is something they should have considered? Or had that ship sailed?
KR: I don't know. You look at Brian Sabean and that organization is that they generally don't get caught with their pants down. They have a plan. I guarantee that there are backup plans. They've discussed trades at the winter meetings. They'll revisit them again. They're a frightening group when they get close because they tend to make a move that doesn't appear to be a massive move that ends up being enough to get them into and win a World Series. So there is a great level of confidence I have in the ability of that team to make decisions to improve themselves when they need to.
NB: You mentioned the Cubs middle relief issue. What's your thoughts on Theo Epstein bringing in Joe Nathan following Tommy John surgery? Was it a good proactive move?
KR: I think it's an interesting one. I think it one of those like the sense of the Angels and Lincecum it's a minimal-risk, high-reward. Joe Nathan has pitched in big cities, in high-leverage situations. In Theo's case, he can certainly do it Chicago. Again, I think that's a low-risk, high reward deal. And I think that Theo will continue to address the bullpen if that shows to be an issue.
There's an X-factor hanging around out there, that I think the Cubs will be involved with and I'm not sure what other teams will be involved–but Ryan Braun's name is going to start appearing on the radar if it hasn't already. And all those teams that I mentioned, whether it be the Nationals, the Cubs, the Giants who are all going to be very proactive when it comes to making deals partly because there are so many teams that aren't in the race that are going to have parts they want to move.
NB: We don't have the marquee matchups in pitching this series, but tomorrow's game we have Bumgarner and Hendricks. Hendricks is a guy that in Cubs circles that often draws comparisons to Greg Maddux because he doesn't have the overpowering stuff and he's very cerebral. Can you see him becoming that type of pitcher? Not necessarily Maddux but a successful starter?
KR: I see him being a very solid starter on that staff. He a huge first pitch strike guy, amongst the highest in baseball. He's not afraid to pitch to contact, not a huge swing-and-miss guy which speaks to the Heyward injury. This is why you need a great defense behind a guy like Kyle because he's going to throw strikes and he's going to allow the ball to be put in play. And so the Cubs sort of story so far this year–they've caught the balls that are put in play–their defensive efficiency is the highest in baseball, something like 73 percent of the balls put in play they turn into outs. You take Heyward out of there, Hendricks becomes a bit more challenged. He's not Arrieta, he's not Lester but he's a solid pitcher when you have a good defense behind him.
NB: Speaking of Arrieta, this run of his has been historic. Do you think he can continue this run?
KR: I do. It's really neat to watch he and Kershaw. Because Kershaw seems to pick up that baton, his numbers. Chris Sale. There are a handful of guys that are putting up amazing first half numbers. Whether you're 9-0, whether your ERA is 1.20, your strikeout to walk ratio is 60 to 4, there are those three guys that every time they get out there on the mound and you assume they're going to deliver. In Arrieta's case, you no longer will expect "is this the night he'll struggle"? Those nights remarkably don't exist. It's like Kershaw, they just don't exist. So there's every reason to think his confidence, his ability, his accountability, his preparation–it's not like he's facing Double-A teams. He's done it against every good Major League team. And there's no reason to think it's going to change. Go into San Francisco you see him give up a run–okay, my ERA is 1.29 when I'm done with the Giants. I absolutely think it's going to continue. Get us to August and September and let's see the morning and nightly news shows start to talk about the Cubs chance to end the curse, and the Cy Young season Arrieta is having, and Anthony Rizzo being an MVP and how many wins over 100 is the team going to get. Barring injury, and clearly Heward and Schwarber's injuries raise a little eyebrow–they are the unequivocal baseball story of the summer.
Related Story: Heyward news is good for him, not for Ramirez
NB: The Cubs still need to sign the orchestrator of all this in Theo Epstein, but looking ahead, do they sign Arrieta or let him walk?
KR: I don't know, Theo is a really smart guy. There's no reason to rush on Arrieta. I wouldn't. It's bizarre but the Cubs are creating a situation–we saw with Fowler in the offseason–players are going to want to go play there. So, the idea that unless they win a World Series that someone like Arrieta is going to leverage his abilities against another organization that might pay him a little bit more? The Cubs are going to pay. There's no doubt. The Cubs are going to make an offer that is going to be competitive. And then it becomes the players option to stay and pitch in a city like that trying to break the curse, or leave for a little bit more money. That's why I think the Cubs are in the driver's seat as far as an Arrieta extension. You don't have to take a hometown discount. The Cubs can look at themselves and think, we have the ability to basically get any player we want, and if Arrieta wants to be a part of it, I think they'll pay him very fairly. And I think he'll stay. Again, I think there in such a wonderful position as an organization whether it's Arrieta who stays or a guy like Strasburg who in a couple years has the ability to become a free agent, maybe he's the guy that goes there. They're just going to be a good team for a very long time
The Cubs close out their series with the Giants tomorrow. Here's the ESPN coverage lineup for tomorrow's finale.
Sun, May 22, 7 p.m.
Baseball Tonight: Sunday Night Countdown
Karl Ravech, Dallas Braden, Tim Kurkjian
ESPN
8 p.m.
Chicago Cubs at San Francisco Giants presented by Taco Bell
Dan Shulman, Aaron Boone, Jessica Mendoza, Buster Olney
ESPN, ESPN Radio, ESPN Deportes TV